Drive
total: 10

Brigada
total: 9

Fast Five
total: 23

Tres metros sobre el cielo
total: 15
Rambo Soundtrack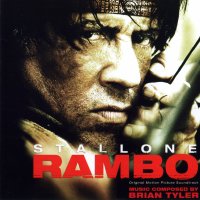 Original Motion Picture Soundtrack / OST

By:
Brian Tyler
Release date:
05.02.2008
Bitrate:
~320 kbps
Length:
75:59 (20 tracks)
Size:
176.00 MB
Best review is still not choosen. Your's can become the BEST! Be the first... Write review
Tracklist. Online preview
Put online player to your blog, website or forum.
#
Brian Tyler — Rambo
Length

preview

Bitrate
Size
1.
Rambo Theme
Brian Tyler
3:34

need Flash

320
8.18
2.
No Rules Of Engagement
Brian Tyler
7:09

need Flash

320
16.39
3.
Conscription
Brian Tyler
2:55

need Flash

320
6.69
4.
The Rescue
Brian Tyler
4:04

need Flash

320
9.33
5.
Aftermath
Brian Tyler
2:33

need Flash

320
5.85
6.
Searching For Missionaries
Brian Tyler
7:07

need Flash

320
16.30
7.
Hunting Mercenaries
Brian Tyler
2:43

need Flash

320
6.25
8.
Crossing Into Burma
Brian Tyler
6:59

need Flash

320
16.00
9.
The Village
Brian Tyler
1:43

need Flash

320
3.96
10.
Rambo Returns
Brian Tyler
2:44

need Flash

320
6.26
11.
When You Are Pushed
Brian Tyler
2:26

need Flash

320
5.58
12.
The Call To War
Brian Tyler
2:51

need Flash

320
6.55
13.
Atrocities
Brian Tyler
1:40

need Flash

320
3.82
14.
Prison Camp
Brian Tyler
4:42

need Flash

320
10.77
15.
Attack On The Village
Brian Tyler
3:01

need Flash

320
6.92
16.
Rambo Takes Charge
Brian Tyler
2:22

need Flash

320
5.45
17.
The Compound
Brian Tyler
7:48

need Flash

320
17.88
18.
Battle Adagio
Brian Tyler
3:10

need Flash

320
7.27
19.
Rambo Main Title
Brian Tyler
3:30

need Flash

320
8.02
20.
Rambo End Title
Brian Tyler
2:58

need Flash

320
6.81
75:59
176.00
Plot summary
Vietnam veteran John Rambo has survived many harrowing ordeals in his lifetime and has since withdrawn into a simple and secluded existence in Thailand, where he spends his time capturing snakes for local entertainers, and chauffeuring locals in his old PT boat. Even though he is looking to avoid trouble, trouble has a way of finding him: a group of Christian human rights missionaries, led by Michael Burnett and Sarah Miller, approach Rambo with the desire to rent his boat to travel up the river to Burma. For over fifty years, Burma has been a war zone. The Karen people of the region, who consist of peasants and farmers, have endured brutally oppressive rule from the murderous Burmese military and have been struggling for survival every single day. After some inner contemplation, Rambo accepts the offer and takes Michael, Sarah, and the rest of the missionaries up the river. When the missionaries finally arrive at the Karen village, they find themselves part of a raid by the sadistic Major Pa Tee Tint and a slew of Burmese army men. A portion of the villagers and missionaries are tortured and viciously murdered, while Tint and his men hold the remainder captive. Concerned by their disappearance, the minister in charge of the mission gathers a group of mercenaries and pleas Rambo transport them with his boat, since he knows their last exact location. But Rambo can't stay behind: he joins the team where he belongs, to liberate the survivors from the clutches of Major Tint in what may be one of his deadliest missions ever.
Comments