Drive
total: 10

Brigada
total: 9

Fast Five
total: 23

Tres metros sobre el cielo
total: 15
Fast Five Soundtrack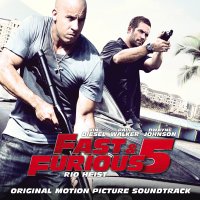 Best review is still not choosen. Your's can become the BEST! Be the first... Write review
There is another version of soundtrack to this movie

Fast Five: Score
by Brian Tyler
Tracklist. Online preview
Put online player to your blog, website or forum.
#
VA — Fast Five
Length

preview

Bitrate
Size
1.
How We Roll (Fast Five Remix)
Don Omar, J-Doe, Reek Da Villian & Busta Rhymes
4:09

need Flash

320
9.50
2.
Desabafo / Deixa Eu Dizer
Marcelo D2 & Claudia
2:55

need Flash

320
6.70
3.
Assembling the Team
Brian Tyler
3:33

need Flash

320
8.13
4.
L. Gelada-3 Da Madrugada
MV Bill
7:19

need Flash

320
16.77
5.
Carlito Marron
Carlinhos Brown
4:07

need Flash

320
9.42
6.
Han Drifting
Hybrid
1:55

need Flash

320
4.40
7.
Million Dollar Race
Edu K & Hybrid
2:24

need Flash

320
5.50
8.
Mad Skills
Brian Tyler
3:51

need Flash

320
8.82
9.
Batalha
Obando
4:15

need Flash

320
9.72
10.
Danza Kuduro
Don Omar feat. Lucenzo
3:18

need Flash

320
7.56
11.
Follow Me Follow Me (Quem Que Caguetou?) [Fast 5 Hybrid Remix]
Speed, Black Alien & Tejo
3:07

need Flash

320
7.16
12.
Fast Five Suite
Brian Tyler
5:41

need Flash

320
13.03
13.
F5 (Furiously Dangerous)
Ludacris feat. Slaughterhouse & Claret Jai
4:04

need Flash

320
9.31
50:38
116.18
Plot summary
Former cop Brian O'Conner partners with ex-con Dom Toretto on the opposite side of the law. Since Brian and Mia Toretto broke Dom out of custody, they've blown across many borders to elude authorities. Now backed into a corner in Rio de Janeiro, they must pull one last job in order to gain their freedom. As they assemble their elite team of top racers, the unlikely allies know their only shot of getting out for good means confronting the corrupt businessman who wants them dead. But he's not the only one on their tail. Hard-nosed federal agent Luke Hobbs never misses his target. When he is assigned to track down Dom and Brian, he and his strike team launch an all-out assault to capture them. But as his men tear through Brazil, Hobbs learns he can't separate the good guys from the bad. Now, he must rely on his instincts to corner his prey... before someone else runs them down first.
Comments