Drive
total: 10

Brigada
total: 9

Fast Five
total: 23

Tres metros sobre el cielo
total: 15
The Guardian: Score Soundtrack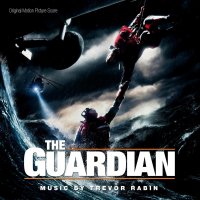 The Guardian is the kind of inspirational movie that Hollywood made about the Army, Navy and Marines during World War II. Now, with inspiration in short supply, it's the Coast Guard's turn. Another reviews
Write review
There is another version of soundtrack to this movie

The Guardian
by Various Artists
Tracklist. Online preview
#
Trevor Rabin — The Guardian: Score
Length
1.
Guardian of the Sea
Trevor Rabin
5:59
2.
Helen Leaves
Trevor Rabin
1:19
3.
Helen Leaves (Alternate)
Trevor Rabin
1:18
4.
The Cargo Ship
Trevor Rabin
1:18
5.
Attempted Rescue
Trevor Rabin
3:49
6.
Barksdale Air Force Camp
Trevor Rabin
3:53
7.
Flashback #1
Trevor Rabin
0:46
8.
Treading Water
Trevor Rabin
2:06
9.
Swim Champ
Trevor Rabin
0:40
10.
Pool of Ice
Trevor Rabin
2:50
11.
Flashback #2
Trevor Rabin
0:41
12.
Training Montage
Trevor Rabin
1:48
13.
Unused #1
Trevor Rabin
1:28
14.
Unused #2
Trevor Rabin
1:23
15.
Getting Old Ain't Bad
Trevor Rabin
0:51
16.
Getting Old Ain't Bad (Alternate)
Trevor Rabin
0:51
17.
Flashback #3
Trevor Rabin
0:29
18.
Looking for a Miracle (Alternate)
Trevor Rabin
1:11
19.
Looking for a Miracle
Trevor Rabin
1:14
20.
Hodges Panics
Trevor Rabin
1:30
21.
Randall and Fischer Talk
Trevor Rabin
4:49
22.
Stay Together
Trevor Rabin
2:06
23.
Hodges Passes
Trevor Rabin
0:53
24.
Graduation
Trevor Rabin
3:25
25.
Randall Back Home
Trevor Rabin
1:50
26.
The Cave Pt. 1
Trevor Rabin
2:51
27.
The Cave Pt. 2
Trevor Rabin
2:25
28.
Randall Retires
Trevor Rabin
3:18
29.
Randall Visits Helen
Trevor Rabin
1:54
30.
Randall Visits Helen (Alternate)
Trevor Rabin
1:34
31.
Rescuing Fischer
Trevor Rabin
9:04
32.
Never Let Go (Performed by Bryan Adams)
Trevor Rabin, Bryan Adams & Eliot Kennedy
5:08
74:41
Plot summary
The US Coast Guard version of "Top Gun" with a little "An Officer and A Gentleman" thrown in: an aging USCG rescue swimmer's team is killed in a horrific rescue mission. Immediately prior to this terrible event, his wife also announced that she cannot take anymore. His first love is always the rescue mission. This leaves him an obviously emotional wreck. His commender gives him a choice - quit or take a position as an instructor at the USCG training facility in Louisiana. Reluctantly he takes the position. Moving into the school, he immediately increases the 18 week curriculum that routinely fails half of the people that attend. Here he meets a young man with unlimited potential, but with some secret that seems to hold him back as a team player. Delving into his past, links are found that make him a psychic twin to the older man. Thrown into the midst of the story is a romance with a local girl. Rescue missions punctuate the beginning and end of the story with the training sessions the center of the film.
Comments
When I heard the second track ("Helen Leaves"), I was astonished at how beautiful and nostalgic the track was. I loved this movie with its sad and melancholic atmosphere.
The Guardian is an action-adventure drama film that is mainly dedicated to the United States Coast Guard. Andrew Davis directs the film and Trevor Rabin composes the score.

The score in this film is absolutely fabulous. The percussions and fast paced orchestra music really pushes the tone of the score, and the beautiful vocal also makes this score one of the most emotional scores ever composed by Trevor Rabin. This edition is a bootleg, and almost all the tracks heard from the movie can be heard in here. The only disappointment is that the "The Crash" and "The Fishing Boat" sequences were never heard in here. Those were one of the greatest moments of Rabin's score, and I was looking forward to those parts.

Overall, this score has its moments. But due to the loss of two great sequences of the film, this score ends up not being as good as it could have been, especially since this is a bootleg.