Drive
total: 10

Brigada
total: 9

Fast Five
total: 23

Tres metros sobre el cielo
total: 15
Kal Ho Naa Ho Soundtrack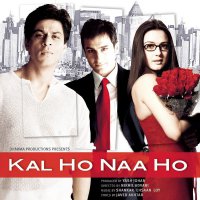 Best review is still not choosen. Your's can become the BEST! Be the first... Write review
Tracklist. Online preview
Put online player to your blog, website or forum.
#
VA — Kal Ho Naa Ho
Length

preview

Bitrate
Size
1.
Kal Ho Naa Ho Theme
Instrumental
4:25

need Flash

320
10.14
2.
Pretty Woman
Shankar Mahadevan
5:56

need Flash

320
13.58
3.
Kal Ho Naa Ho (Sad)
Alka Yagnik, Richa Sharma & Sonu Nigam
5:37

need Flash

320
12.87
4.
Kuch to Hua Hai
Shaan, Alka Yagnik
5:21

need Flash

320
12.27
5.
It's the Time to Disco
Vasundhara Das, K.K., Shaan & Loy Mendonsa
5:35

need Flash

320
12.79
6.
Maahi Ve
S. Sargam, U. Narayan, S. Mahadevan & S. Nigam
6:08

need Flash

320
14.08
7.
Kal Ho Naa Ho
Sonu Nigam
5:21

need Flash

320
12.26
38:23
88.14
Plot summary
Naina is a young woman, slightly ticked off for reasons more than one. His father committed suicide when she needed him the most, leaving Jennifer, his wife all alone. Lajjo, Jennifer's mother-in-law blames Jennifer for the same. furthermore, Jennifer is unhappy because Lajjo refuses to accept Gia, a 6-year old girl whom Jennifer adopted. Even the restaurant Jennifer is running is not going great guns. in short, nothing is well on the Kapur family front. the only factors that redeem Naina's existence are his toiling and tolerant mother Jennifer, and her bumbling stumbling MBA classmate Rohit. Meanwhile, Aman, a happy-go-lucky guy arrives in Naina's neighbourhood and soon changes everything around, thanks to his contagious joviality and jest for life. He proves to be the messiah for the Kapur family in every sort...
Comments