Drive
total: 10

Brigada
total: 9

Fast Five
total: 23

Tres metros sobre el cielo
total: 15
The Lord of the Rings: The Two Towers Soundtrack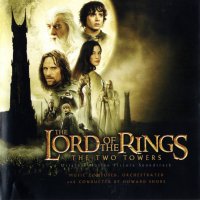 Original Motion Picture Soundtrack / OST

By:
Howard Shore
Release date:
18.12.2002
Bitrate:
~232 kbps
Length:
73:18 (19 tracks)
Size:
123.04 MB
Best review is still not choosen. Your's can become the BEST! Be the first... Write review
Tracklist. Online preview
Put online player to your blog, website or forum.
#
Howard Shore — The Lord of the Rings: The Two Towers
Length

preview

Bitrate
Size
1.
Foundations of Stone
Howard Shore
3:54

need Flash

224
6.25
2.
The Taming of Smeagol
Howard Shore
2:51

need Flash

224
4.57
3.
The Riders of Rohan
Howard Shore
4:07

need Flash

224
6.61
4.
The Passage of the Marshes
Howard Shore
2:48

need Flash

224
4.49
5.
The Uruk-Hai
Howard Shore
3:00

need Flash

224
4.82
6.
The King of the Golden Hall
Howard Shore
3:51

need Flash

224
6.18
7.
The Black Gate Is Closed
Howard Shore
3:19

need Flash

224
5.33
8.
Evenstar
Howard Shore feat. Isabel Bayrakdarian
3:17

need Flash

224
5.28
9.
The White Rider
Howard Shore
2:30

need Flash

224
4.02
10.
Treebeard
Howard Shore
2:45

need Flash

224
4.43
11.
The Leave Taking
Howard Shore
3:43

need Flash

224
5.97
12.
Helm's Deep
Howard Shore
3:55

need Flash

224
6.28
13.
The Forbidden Pool
Howard Shore
5:29

need Flash

224
8.80
14.
Breath of Life
Howard Shore feat. Sheila Chandra
5:09

need Flash

224
8.27
15.
The Hornburg
Howard Shore
4:39

need Flash

256
8.51
16.
Forth Eorlingas
Howard Shore feat. Ben Del Maestro
3:17

need Flash

256
6.03
17.
Isengard Unleashed
Howard Shore feat. Elizabeth Fraser & Ben Del Maestro
5:03

need Flash

256
9.25
18.
Samwise the Brave
Howard Shore
3:48

need Flash

256
6.96
19.
Gollum's Song
Howard Shore (Performed by Emiliana Torrini)
5:53

need Flash

256
10.79
73:18
123.04
Plot summary
The Fellowship has been broken. Boromir is dead, Frodo Baggins and Samwise Gamgee have gone to Mordor alone to destroy the One Ring, Merry and Pippin have been captured by the Uruk-hai, and Aragorn, Legolas, and Gimli have made friends of the Rohan, a race of humans that are in the path of the upcoming war, led by its aging king, Théoden. The two towers between Mordor and Isengard, Barad-dúr and Orthanc, have united in their lust for destruction. The corrupt wizard Saruman, under the power of the Dark Lord Sauron, and his slimy assistant, Gríma Wormtongue, have created a grand Uruk-hai army bent on the destruction of Man and Middle-earth. The rebellion against Sauron is building up and will be led by Gandalf the White, who was thought to be dead after the Balrog captured him. One of the Ring's original bearers, the creature Gollum, has tracked Frodo and Sam down in search of his 'precious', but is captured by the Hobbits and used as a way to lead them to Mt. Doom. The War of the Ring has now begun...
Comments