Drive
total: 10

Brigada
total: 9

Fast Five
total: 23

Tres metros sobre el cielo
total: 15
Reign of Fire Soundtrack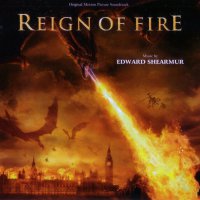 Original Motion Picture Soundtrack / OST

By:
Edward Shearmur
Release date:
23.07.2002
Bitrate:
~320 kbps
Length:
50:36 (14 tracks)
Size:
116.32 MB
Best review is still not choosen. Your's can become the BEST! Be the first... Write review
Tracklist. Online preview
Put online player to your blog, website or forum.
#
Edward Shearmur — Reign of Fire
Length

preview

Bitrate
Size
1.
Prologue
Edward Shearmur
3:22

need Flash

320
7.71
2.
Enter the Dragon
Edward Shearmur
3:19

need Flash

320
7.59
3.
An Early Harvest
Edward Shearmur
2:42

need Flash

320
6.20
4.
Field Attack
Edward Shearmur
4:12

need Flash

320
9.62
5.
Marauders
Edward Shearmur
2:48

need Flash

320
6.41
6.
Meet Van Zan
Edward Shearmur
3:50

need Flash

320
8.78
7.
Archangels
Edward Shearmur
3:58

need Flash

320
9.09
8.
Dawn Burial
Edward Shearmur
3:03

need Flash

320
6.98
9.
A Battle of Wills
Edward Shearmur
5:31

need Flash

320
12.65
10.
The Ruins at Pembury
Edward Shearmur
2:11

need Flash

320
5.02
11.
Inferno
Edward Shearmur
3:24

need Flash

320
7.78
12.
Return to London
Edward Shearmur
4:12

need Flash

320
9.61
13.
Magic Hour
Edward Shearmur
5:24

need Flash

320
12.36
14.
Rebirth
Edward Shearmur
2:40

need Flash

320
6.13
50:36
116.32
Plot summary
It is twenty years in the future, and the planet has been devastated by vicious fire-breathing dragons. The last vestiges of humanity now struggle for survival in at remote ouposts. In a ruined castle in the English countryside, Quinn is desperately trying to hold together a band of frightened, restless survivors. As a boy, Quinn watched his mother die protecting him from one of the beasts, and is still haunted by the memory. One day, a group of American rouges shows up, led by a brash, tough-guy named Van Zam. He claims to have discovered a way to kill the dragons once and for all, and enlists Quinn's help. But doing so will force Quinn to confront his own frightening memories. This, and Quinn's responsibilities to those that are under his protection, results in a battle of wills between the two men. In the end, events cause them both to realize that they must work together to defeat the monsters--both without and within.
Comments