Drive
total: 10

Brigada
total: 9

Fast Five
total: 23

Tres metros sobre el cielo
total: 15
Hart's War Soundtrack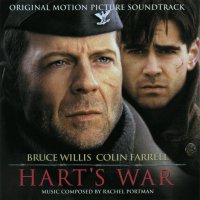 Original Motion Picture Soundtrack / OST

By:
Rachel Portman
Release date:
12.02.2002
Bitrate:
~320 kbps
Length:
45:01 (14 tracks)
Size:
103.52 MB
Best review is still not choosen. Your's can become the BEST! Be the first... Write review
Tracklist. Online preview
Put online player to your blog, website or forum.
#
Rachel Portman — Hart's War
Length

preview

Bitrate
Size
1.
Final Salute
Rachel Portman
3:25

need Flash

320
7.83
2.
Hart Captured and Interrogated
Rachel Portman
5:19

need Flash

320
12.20
3.
Scott's Macon, Georgia Story / Train Yard Strafing and Bombing
Rachel Portman
3:52

need Flash

320
8.87
4.
Visser Testifies
Rachel Portman
3:06

need Flash

320
7.13
5.
Visser Finds Tunnel
Rachel Portman
6:45

need Flash

320
15.45
6.
March to Stalag 6A
Rachel Portman
3:18

need Flash

320
7.56
7.
Archer Shot Dead
Rachel Portman
1:13

need Flash

320
2.81
8.
Scott Railroaded
Rachel Portman
3:17

need Flash

320
7.52
9.
"Everything Is OK, Tommy"
Rachel Portman
1:52

need Flash

320
4.30
10.
Blackened Face Testimony
Rachel Portman
2:36

need Flash

320
5.98
11.
Hart Finds Bedford's Stash
Rachel Portman
1:03

need Flash

320
2.41
12.
Hart Discovers Tunnel
Rachel Portman
3:30

need Flash

320
8.04
13.
McNamara Trades His Life
Rachel Portman
2:47

need Flash

320
6.39
14.
End Credits
Rachel Portman
2:58

need Flash

320
6.82
45:01
103.52
Plot summary
Fourth-generation Army Col. William McNamara is imprisoned in a brutal German POW camp. Still, as the senior-ranking American officer, he commands his fellow inmates, keeping a sense of honor alive in a place where honor is easy to destroy, all under the dangerous eye of the Luftwafe vetran Col. Wilhelm Visser. Never giving up the fight to win the war, McNamara is silently planning, waiting for his moment to strike back at the enemy. A murder in the camp gives him the chance to set a risky plan in motion. With a court martial to keep Visser and the Germans distracted, McNamara orchestrates a cunning scheme to escape and destroy a nearby munitions plant, enlisting the unwitting help of young Lt. Tommy Hart. Together with his men, McNamara uses a hero's resolve to carry out his mission, ultimately forced to weigh the value of his life against the good of his country.
Comments