Drive
total: 10

Brigada
total: 9

Fast Five
total: 23

Tres metros sobre el cielo
total: 15
Boat Trip Soundtrack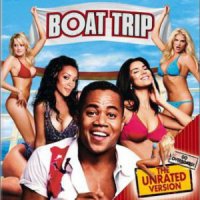 Original Motion Picture Soundtrack / OST

Release date:
04.10.2002
Bitrate:
~256 kbps
Length:
33:28 (9 tracks)
Size:
58.76 MB
Best review is still not choosen. Your's can become the BEST! Be the first... Write review
Tracklist. Online preview
Put online player to your blog, website or forum.
#
VA — Boat Trip
Length

preview

Bitrate
Size
1.
I Got You (I Feel Good)
James Brown
2:46

need Flash

320
6.36
2.
Can't Help Lovin' That Man of Mine
Liza Minnelli
2:38

need Flash

224
4.23
3.
Maneater
Daryl Hall & John Oates
4:32

need Flash

256
8.33
4.
Shake Up the Party
Joy Enriquez
3:16

need Flash

320
7.49
5.
Est-Ce Que Tu?
Brad Segal & Sun Spot
4:15

need Flash

192
5.84
6.
Coconut
Harry Nilsson
3:51

need Flash

320
8.81
7.
Stand By Your Man
Me First And The Gimme Gimmes
2:01

need Flash

320
4.64
8.
I'm Coming Out
Diana Ross
5:22

need Flash

225
8.66
9.
I Will Survive
Gloria Gaynor
4:47

need Flash

128
4.39
33:28
58.76
Plot summary
Jerry and Nick are two best buddies whose love lives have hit rock bottom, Jerry's especially, having just vomited all over his fiancée on a hot air balloon trip prior to proposing to her. To escape their troubles and find women, they book a trip on board a cruise-liner, unaware the travel agent has just played a horrid trick on them in retaliation for Nick offending his secret gay lover. And that's the trick; it's a gay cruise-liner for gay men to meet and mingle. Slowly but surely, the two main characters begin to realize this and in turn get into a lot of humorous predicaments.
Comments