Drive
total: 10

Brigada
total: 9

Fast Five
total: 23

Tres metros sobre el cielo
total: 15
Lara Croft: Tomb Raider: Score Soundtrack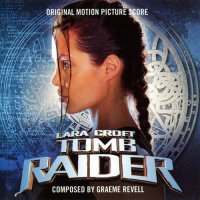 Original Motion Picture Soundtrack / OST

By:
Graeme Revell
Release date:
11.06.2001
Bitrate:
~320 kbps
Length:
48:59 (15 tracks)
Size:
112.45 MB
Best review is still not choosen. Your's can become the BEST! Be the first... Write review
There is another version of soundtrack to this movie

Lara Croft: Tomb Raider
by Various Artists
Tracklist. Online preview
Put online player to your blog, website or forum.
#
Graeme Revell — Lara Croft: Tomb Raider: Score
Length

preview

Bitrate
Size
1.
Tomb Raider Main Titles
Graeme Revell
3:15

need Flash

320
7.44
2.
Lara Croft at Home
Graeme Revell
2:13

need Flash

320
5.10
3.
Powell and the Illuminati
Graeme Revell
2:58

need Flash

320
6.81
4.
Lara Dreams of Her Father
Graeme Revell
1:46

need Flash

320
4.05
5.
The Clock
Graeme Revell
3:01

need Flash

320
6.94
6.
Home Invasion
Graeme Revell
3:59

need Flash

320
9.13
7.
Alex West and Mr. Wilson
Graeme Revell
4:05

need Flash

320
9.36
8.
The Letter
Graeme Revell
1:25

need Flash

320
3.26
9.
Journey to Cambodia
Graeme Revell
2:00

need Flash

320
4.58
10.
Angkor Wat
Graeme Revell
7:36

need Flash

320
17.41
11.
Lara Battles Stone Monkeys
Graeme Revell
3:32

need Flash

320
8.12
12.
The Brahman
Graeme Revell
1:31

need Flash

320
3.50
13.
Siberia
Graeme Revell
2:52

need Flash

320
6.57
14.
The Planetary Alignment
Graeme Revell
5:08

need Flash

320
11.75
15.
Lara Defeats Powell
Graeme Revell
3:38

need Flash

320
8.34
48:59
112.45
Plot summary
A member of a rich British aristocratic family, Lara Croft is a "tomb raider" who enjoys collecting ancient artifacts from ruins of temples, cities, etc. worldwide, and doesn't mind going through death-defying dangers to get them. She is skilled in hand-to-hand combat, weapons training, and foreign languages - and does them all in tight outfits. Well, the planets of the solar system are going into planetary alignment (Which occurs every 5,000 years), and a secret society called the Illuminati is seeking an ancient talisman that gives its possessor the ability to control time. However, they need a certain clock/key to help them in their search, and they have to find the talisman in one week or wait until the next planetary alignment to find it again. Lara happens to find that key hidden in a wall of her mansion. The Illuminati steal it, and Lara gets an old letter from her deceased father telling her about the society's agenda (Her father was also the one who hid the key). Now, she must retrieve the key and find and destroy the talisman before the Illuminati can get their hands on it.
Comments