Groupies bleiben nicht zum Frühstück
total: 153

Mirror Mirror
total: 106

Tengo ganas de ti
total: 38

The Wild
total: 12
Sabrina Soundtrack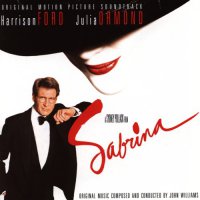 Original Motion Picture Soundtrack / OST

By:
John Williams:
Release date:
12.12.1995
Bitrate:
~320 kbps
Length:
51:12 (13 tracks)
Size:
117.28 MB
Best review is still not choosen. Your's can become the BEST! Be the first... Write review
Tracklist. Online preview
Put online player to your blog, website or forum.
#
John Williams: — Sabrina
Length

preview

Bitrate
Size
1.
Theme from Sabrina
John Williams
4:30

need Flash

320
10.31
2.
Moonlight
Sting
5:22

need Flash

320
12.27
3.
Linus' New Life
John Williams
2:43

need Flash

320
6.25
4.
Growing Up in Paris
John Williams
3:02

need Flash

320
6.94
5.
(In the) Moonlight (Instrumental)
John Williams
2:59

need Flash

320
6.84
6.
Sabrina Remembers / La Vie en Rose
John Williams
1:42

need Flash

320
3.89
7.
Sabrina Comes Home
John Williams
4:14

need Flash

320
9.70
8.
Nantucket Visit
John Williams
2:31

need Flash

320
5.78
9.
The Party Sequence / When Joanna Loved Me / The Shadow of Your Smile / Call Me Irresponsible / Stella By Starlight
John Williams
10:54

need Flash

320
24.93
10.
Sabrina and Linus Date
John Williams
2:40

need Flash

320
6.10
11.
How Can I Remember?
John Williams
2:50

need Flash

320
6.49
12.
Sabrina's Return to Paris
John Williams
2:22

need Flash

320
5.43
13.
Theme from Sabrina (Reprise)
John Williams
5:23

need Flash

320
12.32
51:12
117.28
Plot summary
While she was growing up, Sabrina Fairchild spent more time ] perched in a tree watching the Larrabee family than she ever did on solid ground.As the chauffeur's daughter on their lavish Long Island estate, Sabrina was invisible behind the branches, but she knew them all below... There is Maude Larrabee, the modern matriarch of the Larrabee Corporation; Linus Larrabee, the serious older son who expanded a successful family business into the world's largest communications company; and David, the handsome, fun-loving Larrabee, who was the center of Sabrina's world. Until she was shipped off to Paris. After two years on the staff of Vogue magazine, Sabrina has returned to the Larrabee estate, but now she has blossomed into a beautiful and sophisticated woman. And she's standing in the way of a billion dollar deal.
Comments