Drive
total: 10

Brigada
total: 9

Fast Five
total: 23

Tres metros sobre el cielo
total: 15
The Big Year Soundtrack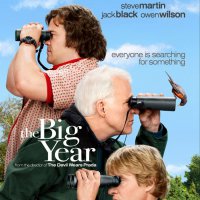 Best review is still not choosen. Your's can become the BEST! Be the first... Write review
Tracklist. Online preview
Put online player to your blog, website or forum.
#
VA — The Big Year
Length

preview

Bitrate
Size
1.
The Doge's Decree
Antonio Vivaldi
0:44

need Flash

256
1.35
2.
Blackbird
Brad Mehldau
5:01

need Flash

256
9.20
3.
Viva la Vida
Coldplay
4:00

need Flash

320
9.17
4.
Minor Swing
Django Reinhardt
3:12

need Flash

320
7.34
5.
I Like Birds
Eels
2:35

need Flash

320
5.94
6.
This Could All Be Yours
Guster
3:32

need Flash

320
8.10
7.
Come Fly Away
Jeremy Fisher
3:10

need Flash

192
4.35
8.
Surfin' Bird
The Trashmen
2:17

need Flash

320
5.24
24:31
50.97
Plot summary
Unofficial album.

In birding, a Big Year is seeing or hearing as many different species of birds as possible in a calendar year. Three men pursue the Birder of the Year title: Kenny Bostick, who's seen a record 732 in a past big year, Stu Preissler, newly retired, and Brad Harris, who narrates the story. Life gets in the way: Bostick's wife wants a baby, Stu's firm needs him for sensitive negotiations, and Brad, divorced and underemployed at 36, has an encouraging mom and a disapproving dad. They criss-cross the U.S. (including a trip to Alaska's westernmost island), follow migration patterns, and head for storms that force birds to ground. Who will win, at what cost, and with what rewards?
Comments