Drive
total: 10

Brigada
total: 9

Fast Five
total: 23

Tres metros sobre el cielo
total: 15
La ligne droite Soundtrack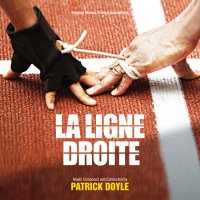 Original Motion Picture Soundtrack / OST

By:
Patrick Doyle
Release date:
09.03.2011
Length:
40:19 (21 track)
Best review is still not choosen. Your's can become the BEST! Be the first... Write review
Tracklist. Online preview
#
Patrick Doyle — La ligne droite
Length
1.
Leila Runs Free
Patrick Doyle
1:40
2.
Stadium Memories
Patrick Doyle
2:34
3.
Seeing Her Son
Patrick Doyle
1:36
4.
The Changing Room
Patrick Doyle
1:08
5.
Training Games
Patrick Doyle
1:29
6.
First Training
Patrick Doyle
1:38
7.
Training Breakthrough
Patrick Doyle
1:42
8.
The Other Woman
Patrick Doyle
1:42
9.
You Tricked Me!
Patrick Doyle
1:31
10.
Suspension Bridge
Patrick Doyle
2:22
11.
Stealing a Car
Patrick Doyle
2:23
12.
Running in the Sand
Patrick Doyle
3:39
13.
Yannick Falls Overboard
Patrick Doyle
1:11
14.
Rescued
Patrick Doyle
1:58
15.
Playing Bridges
Patrick Doyle
1:47
16.
Leila's Past
Patrick Doyle
1:47
17.
Triple Training
Patrick Doyle
2:06
18.
Raising Hands Together
Patrick Doyle
1:46
19.
Through the Tunnel
Patrick Doyle
1:12
20.
The Race
Patrick Doyle
2:25
21.
Yannick and Leila
Patrick Doyle
2:43
40:19
Plot summary
After five years in prison, Leila finds freedom once again.
She encounters Yannick, a young athlete who has recently lost his sight in an accident. The only sport he can practice with this disability is running. But to do so, he needs a guide, to whom he's attached by a cord during training. Leila becomes that guide. In a past life, she was a top athlete. She keeps quiet about her more recent past.
This silence suits Yannick, who is suffocated by the gestures of compassion of family and friends.
Training, and then the prospects of competitions, help both to rebuild themselves, one with the other. But there are past stories that just won't let you go, and present feelings, movements of the heart, that upset trajectories. It is necessary to go through all of this so as to one day enter the home straight.
Comments