Drive
total: 10

Brigada
total: 9

Fast Five
total: 23

Tres metros sobre el cielo
total: 15
You Will Meet a Tall Dark Stranger Soundtrack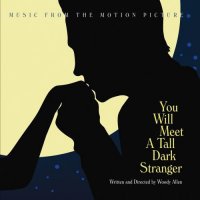 Best review is still not choosen. Your's can become the BEST! Be the first... Write review
Tracklist. Online preview
Put online player to your blog, website or forum.
#
VA — You Will Meet a Tall Dark Stranger
Length

preview

Bitrate
Size
1.
When You Wish Upon a Star
Leon Redbone
2:03

need Flash

153
2.25
2.
When My Babi Smiles at Me
Tom Sharpsteen & His Orlandos
2:34

need Flash

165
3.05
3.
If I Had You
Benny Goodman & His Orchestra
3:02

need Flash

147
3.21
4.
Grave Assai (Solo)
Tali Roth
1:27

need Flash

187
1.95
5.
I'll See You in My Dreams
The Eddy Davis Trio
1:51

need Flash

131
1.73
6.
Grave Assai (Quintet)
Tali Roth
1:29

need Flash

184
1.96
7.
Let Your Body Move
Marc Ferrari & Michael McGregor
3:06

need Flash

203
4.51
8.
Serenade Number 6 in D Major, K. 239 Iii Rondo Allegretto
Wolfgang Amadeus Mozart
4:11

need Flash

181
5.42
9.
Only You (And You Alone)
Tom Sharpsteen & His Orlandos
3:25

need Flash

161
3.95
10.
Tu Che a Dio Spiegasti L'ali (Lucia Di Lammemoor Act 3)
Gaetano Donizetti
4:51

need Flash

173
6.01
11.
Mais Si L'amour
Giulia Y Los Tellarini
1:52

need Flash

164
2.20
12.
I Never Loved You
Scott Nickoley & Jamie Dunlap
3:31

need Flash

220
5.56
13.
My Sin
Tom Sharpsteen & His Orlandos
2:51

need Flash

166
3.40
36:13
45.24
Plot summary
Follows a pair of married couples, Alfie and Helena, and their daughter Sally and husband Roy, as their passions, ambitions, and anxieties lead them into trouble and out of their minds. After Alfie leaves Helena to pursue his lost youth and a free-spirited call girl named Charmaine, Helena abandons rationality and surrenders her life to the loopy advice of a charlatan fortune teller. Unhappy in her marriage, Sally develops a crush on her handsome art gallery owner boss, Greg, while Roy, a novelist nervously awaiting the response to his latest manuscript, becomes moonstruck over Dia, a mystery woman who catches his gaze through a nearby window.
Comments