Drive
total: 10

Brigada
total: 9

Fast Five
total: 23

Tres metros sobre el cielo
total: 15
Takers Soundtrack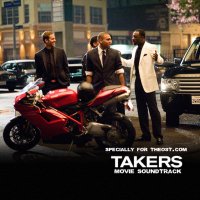 Best review is still not choosen. Your's can become the BEST! Be the first... Write review
There is another version of soundtrack to this movie

Takers: Score
by Paul Haslinger
Tracklist. Online preview
Put online player to your blog, website or forum.
#
VA — Takers
Length

preview

Bitrate
Size
1.
The Best Thing
Kram
3:57

need Flash

200
5.66
2.
The Hop
Radio Citizen feat. Bajka
3:31

need Flash

320
8.06
3.
Worse Than Yesterday
Tweaker
4:18

need Flash

256
7.89
4.
Sugar Pill
Ambulance
4:41

need Flash

256
8.58
5.
Dude Descending a Staircase
Apollo 440
5:06

need Flash

320
11.68
6.
Sacrifice
Lisa Gerrard & Pieter Bourke
7:42

need Flash

320
17.62
7.
Underdog
Kasabian
4:37

need Flash

320
10.59
33:52
70.40
Plot summary
Unofficial album.

A seasoned team of bank robbers, including Gordon Jennings, John Rahway, A.J., and brothers Jake and Jesse Attica successfully complete their latest heist and lead a life of luxury while planning their next job. When Ghost, a former member of their team, is released from prison he convinces the group to strike an armored car carrying $20 million. As the "takers" carefully plot out their strategy and draw nearer to exacting the grand heist, a reckless police officer inches closer to apprehending the criminals.
Comments