Drive
total: 10

Brigada
total: 9

Fast Five
total: 23

Tres metros sobre el cielo
total: 15
Despicable Me: Promo Score Soundtrack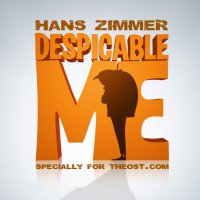 Original Motion Picture Soundtrack / OST

By:
Hans Zimmer
Release date:
06.07.2010
Bitrate:
~192 kbps
Length:
17:19 (8 tracks)
Size:
23.99 MB
Best review is still not choosen. Your's can become the BEST! Be the first... Write review
There are another versions of soundtrack to this movie

Despicable Me
by Various Artists

Despicable Me: Score
by Pharrell Williams & Heitor Pereira
Tracklist. Online preview
Put online player to your blog, website or forum.
#
Hans Zimmer — Despicable Me: Promo Score
Length

preview

Bitrate
Size
1.
Logo / Beautiful Egypt
Hans Zimmer
1:42

need Flash

192
2.35
2.
Mal Mart
Hans Zimmer
1:36

need Flash

192
2.22
3.
Cookie Delivery
Hans Zimmer
3:30

need Flash

192
4.82
4.
Drunk Unicorn
Hans Zimmer
0:36

need Flash

192
0.83
5.
Blast Off
Hans Zimmer
1:32

need Flash

192
2.13
6.
Gru in Space
Hans Zimmer
0:47

need Flash

192
1.09
7.
Rushing Back
Hans Zimmer
1:34

need Flash

192
2.17
8.
Gru vs. Vector
Hans Zimmer
6:02

need Flash

192
8.30
17:19
23.99
Plot summary
In a happy suburban neighborhood surrounded by white picket fences with flowering rose bushes, sits a black house with a dead lawn. Unbeknownst to the neighbors, hidden beneath this home is a vast secret hideout. Surrounded by a small army of minions, we discover Gru, planning the biggest heist in the history of the world. He is going to steal the moon. (Yes, the moon!) Gru delights in all things wicked. Armed with his arsenal of shrink rays, freeze rays, and battle-ready vehicles for land and air, he vanquishes all who stand in his way. Until the day he encounters the immense will of three little orphaned girls who look at him and see something that no one else has ever seen: a potential Dad. The world's greatest villain has just met his greatest challenge: three little girls named Margo, Edith and Agnes.
Comments