Drive
total: 10

Brigada
total: 9

Fast Five
total: 23

Tres metros sobre el cielo
total: 15
The Uninvited Soundtrack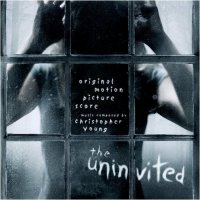 Original Motion Picture Soundtrack / OST

By:
Christopher Young
Release date:
10.02.2009
Bitrate:
~230 kbps
Length:
48:38 (15 tracks)
Size:
79.43 MB
Best review is still not choosen. Your's can become the BEST! Be the first... Write review
Tracklist. Online preview
Put online player to your blog, website or forum.
#
Christopher Young — The Uninvited
Length

preview

Bitrate
Size
1.
The Uninvited
Christopher Young
3:28

need Flash

228
5.66
2.
Twice Told Tales
Christopher Young
2:22

need Flash

232
3.94
3.
I'm at a Party
Christopher Young
3:36

need Flash

235
6.06
4.
Glass Act
Christopher Young
1:35

need Flash

232
2.63
5.
Bloody Milk
Christopher Young
3:25

need Flash

230
5.61
6.
Corpse Christmas
Christopher Young
5:41

need Flash

238
9.68
7.
Pairs in Love
Christopher Young
1:50

need Flash

230
3.01
8.
Terror on the Water
Christopher Young
3:13

need Flash

232
5.34
9.
Twin Nightmares
Christopher Young
4:18

need Flash

219
6.73
10.
Cry of Love
Christopher Young
5:30

need Flash

204
8.01
11.
Working Dreams
Christopher Young
2:41

need Flash

230
4.42
12.
The Screaming Bell
Christopher Young
2:01

need Flash

248
3.58
13.
What Have You Done?
Christopher Young
2:42

need Flash

233
4.50
14.
A Dance with No One
Christopher Young
1:33

need Flash

231
2.57
15.
Tale of Two Sisters
Christopher Young
4:43

need Flash

226
7.63
48:38
79.43
Plot summary
Anna returns home after being institutionalized and tries to adapt to her new home situation. Her father Steven is now living with her late mother's nurse, Rachel Summer and both Anna and her older sister Alex believe Rachel was responsible for her mother's death in a boathouse fire the year before. Soon after her arrival, Anna also begins to receive warnings from her late mother and three children who are always silent but point her to a tragedy that occurred years before in a nearby county. The evidence she and Alex gather all point to Rachel having a secret past and that she is now living under an assumed identity. Just as she believes she has all of the evidence needed against Rachel, new information comes to light that puts earlier events in a different light.
Comments