Drive
total: 10

Brigada
total: 9

Fast Five
total: 23

Tres metros sobre el cielo
total: 15
The Proposal Soundtrack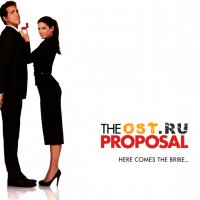 Best review is still not choosen. Your's can become the BEST! Be the first... Write review
Tracklist. Online preview
Put online player to your blog, website or forum.
#
VA — The Proposal
Length

preview

Bitrate
Size
1.
Hot N Cold
Katy Perry
3:40

need Flash

320
8.41
2.
Relax
Frankie Goes to Hollywood
3:36

need Flash

320
8.24
3.
Canon in D
Johann Pachelbel
5:19

need Flash

256
9.75
4.
Freedom
Beautiful Creatures
2:56

need Flash

160
3.37
5.
Get Low
Lil Jon and Eastside Boyz
4:11

need Flash

320
9.58
6.
Cult of Personality
Living Colour
4:53

need Flash

267
9.33
7.
U Can't Touch This
MC Hammer
4:16

need Flash

320
9.78
8.
I've Got You Under My Skin
Michael Buble
3:40

need Flash

320
8.40
9.
It Takes Two
Rob Base and DJ E-Z Rock
4:53

need Flash

256
8.93
10.
So Danco Samba (I Only Dance Samba)
Stan Getz & Luiz Bonfa
3:39

need Flash

256
6.68
11.
Find My Way
The Gabe Dixon Band
3:13

need Flash

185
4.26
44:16
86.77
Plot summary
Unofficial album specially for TheOST.ru

In New York, Margaret Tate is a successful self-made chief-editor of the Ruick & Hunt Publishing and loathed by her coworkers. Margaret lost her parents when she was sixteen and is tough with the employees of the office. Her executive assistant and aspirant editor Andrew Paxton has been working with her for three years without any recognition. When Margaret has problems with the immigration due to an expired visa and is threatened with deportation, she blackmails Andrew to agree to marry her. In return, he would be promoted to editor and she would publish his book. Meanwhile, the skeptical clerk of the immigration department Mr. Gilbertson schedules an interview with Margaret and Andrew after the weekend. The couple travels to Sitka, Alaska, to celebrate the ninetieth birthday of Andrew's grandmother and Margaret is welcomed by his warming family. Over the weekend, she grows closer to Andrew's family who ask her to marry Andrew in their barn, a family tradition in the Paxton family. And the tension increases when Mr. Gilbertson appears out of the blue in Sitka promising to charge Andrew for fraud.
Comments