Drive
total: 10

Brigada
total: 9

Fast Five
total: 23

Tres metros sobre el cielo
total: 15
All About Steve Soundtrack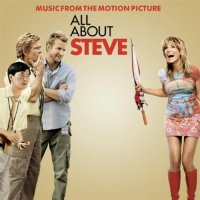 Original Motion Picture Soundtrack / OST

Release date:
25.08.2009
Bitrate:
~320 kbps
Length:
38:02 (12 tracks)
Size:
87.32 MB
Best review is still not choosen. Your's can become the BEST! Be the first... Write review
Tracklist. Online preview
Put online player to your blog, website or forum.
#
VA — All About Steve
Length

preview

Bitrate
Size
1.
Stuck to You
Nikka Costa
3:43

need Flash

320
8.51
2.
Desert Sunrise
Christophe Beck
1:03

need Flash

320
2.43
3.
Sugar
Dan Wilson
4:21

need Flash

320
9.97
4.
Everybody Got Their Something
Nikka Costa
5:47

need Flash

320
13.23
5.
I Will Follow Him
Little Peggy March
2:25

need Flash

320
5.56
6.
Do the Panic
Phantom Planet
3:32

need Flash

320
8.11
7.
Mary Did This
Christophe Beck
1:55

need Flash

320
4.41
8.
Cast Diva Che Inargenti from Norma
Helga Bullock
5:01

need Flash

320
11.50
9.
Love Is Everywhere
Bob Schneider
3:07

need Flash

320
7.14
10.
Lets Finish This
Christophe Beck
2:28

need Flash

320
5.67
11.
Mary's Theme
Christophe Beck
1:06

need Flash

320
2.55
12.
I Want to Be a Cowboy's Sweetheart
Patsy Montana
3:34

need Flash

320
8.19
38:02
87.32
Plot summary
Mary Horowitz writes crossword puzzles for the Sacramento Herald. She's loquacious to a fault. When kids at a career day make fun of her for being single, she accepts a blind date with Steve, the cameraman for a CNN-like news network. Within minutes she decides he's the man for her. He's quickly put off by her constant verbiage and over-the-top advances; he makes an off-hand remark about going on the road with her, and splits. She's moonstruck, writes a sappy crossword puzzle, loses her job, and decides to follow him as the news team crisscrosses the Southwest; Steve's team eggs her on. Then she falls in a mine shaft, and she and Steve become a story; is it a love story?
Comments