Drive
total: 10

Brigada
total: 9

Fast Five
total: 23

Tres metros sobre el cielo
total: 15
21 Soundtrack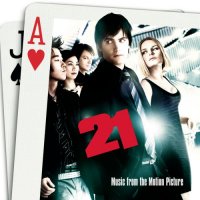 Best review is still not choosen. Your's can become the BEST! Be the first... Write review
Tracklist. Online preview
Put online player to your blog, website or forum.
#
VA — 21
Length

preview

Bitrate
Size
1.
You Can't Always Get What You Want
The Rolling Stones (Re-Mixed & Re-Edited by Soulwax)
6:07

need Flash

320
14.00
2.
Time To Pretend
MGMT
4:20

need Flash

320
9.95
3.
Big Ideas
LCD Soundsystem
5:41

need Flash

320
13.01
4.
Giant
D. Sardy feat. Liela Moss
3:42

need Flash

320
8.47
5.
Always
Amon Tobin
3:38

need Flash

320
8.32
6.
Young Folks
Peter Bjorn and John
4:38

need Flash

320
10.60
7.
Mad Pursuit
Junkie XL feat. Electrocute
4:16

need Flash

320
9.78
8.
Sister Self Doubt
Get Shakes
4:22

need Flash

320
10.01
9.
I Am The Unknown
The Aliens
5:28

need Flash

320
12.50
10.
Shut Up And Drive
Rihanna
3:34

need Flash

320
8.17
11.
Alright
Knivez Out
3:31

need Flash

320
8.05
12.
Tropical Moonlight
Domino
3:28

need Flash

320
7.94
13.
Hold My Hand
Unkle
4:58

need Flash

320
11.39
14.
L.S.F. (Lost Souls Forever)
Mark Ronson feat. Kasabian
3:32

need Flash

320
8.10
15.
Tender Buttons
Broadcast
2:51

need Flash

320
6.53
64:06
146.83
Plot summary
Ben Campbell is a young, highly intelligent, student at M.I.T. in Boston who strives to succeed. Wanting a scholarship to transfer to Harvard School of Medicine with the desire to become a doctor, Ben learns that he cannot afford the $300,000 for the four to five years of schooling as he comes from a poor, working-class background. But one evening, Ben is introduced by his unorthodox math professor Micky Rosa into a small but secretive club of five. Students Jill, Choi, Kianna, and Fisher, who are being trained by Professor Rosa of the skill of card counting at blackjack. Intrigued by the desire to make money, Ben joins his new friends on secret weekend trips to Las Vegas where, using their skills of code talk and hand signals, they have Ben make hundreds of thousands of dollars in winning blackjack at casino after casino. Ben only wants to make enough money for the tuition to Harvard and then back out. But as fellow card counter, Jill Taylor, predicts, Ben becomes corrupted by greed and his arrogance at winning which lets his feelings get in the way, and it also puts Professor Rosa, as well as the group, on the radar of a brutal casino security enforcer, named Cole Williams, who holds a personal grudge of some kind against Rosa which threatens to undo everything the students have learned and earned.
Comments