Drive
total: 10

Brigada
total: 9

Fast Five
total: 23

Tres metros sobre el cielo
total: 15
P.S. I Love You Soundtrack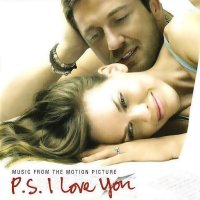 Best review is still not choosen. Your's can become the BEST! Be the first... Write review
There is another version of soundtrack to this movie

P.S. I Love You: Score
by John Powell
Tracklist. Online preview
Put online player to your blog, website or forum.
#
VA — P.S. I Love You
Length

preview

Bitrate
Size
1.
Love You 'till The End
The Pogues
4:32

need Flash

213
6.89
2.
Same Mistake
James Blunt
4:58

need Flash

184
6.55
3.
More Time
Needtobreathe
4:22

need Flash

208
6.49
4.
Carousel
Laura Izibor
3:32

need Flash

205
5.19
5.
Fortress
Hope
3:38

need Flash

183
4.75
6.
Last Train Home
Ryan Star
4:12

need Flash

212
6.38
7.
Rewind
Paolo Nutini
4:19

need Flash

192
5.94
8.
My Sweet Song
Toby Lightman
4:02

need Flash

180
5.18
9.
No Other Love
Chuck Prophet
3:55

need Flash

188
5.26
10.
Everything We Had
The Academy Is...
3:39

need Flash

183
4.78
11.
In The Beginning
The Stills
5:45

need Flash

210
8.65
12.
If I Ever Leave This World Alive
Flogging Molly
3:23

need Flash

157
3.80
13.
P.S. I Love You
Nellie Mckay
2:10

need Flash

115
1.78
14.
Kisses And Cake
John Powell
4:30

need Flash

185
5.95
56:57
77.98
Plot summary
Holly Kennedy is beautiful, smart and married to the love of her life - a passionate, funny, and impetuous Irishman named Gerry. So when Gerry's life is taken by an illness, it takes the life out of Holly. The only one who can help her is the person who is no longer there. Nobody knows Holly better than Gerry. So it's a good thing he planned ahead. Before he died, Gerry wrote Holly a series of letters that will guide her, not only through her grief, but in rediscovering herself. The first message arrives on Holly's 30th birthday in the form of a cake, and to her utter shock, a tape recording from Gerry, who proceeds to tell her to get out and "celebrate herself". In the weeks and months that follow, more letters from Gerry are delivered in surprising ways, each sending her on a new adventure and each signing off in the same way; P.S. I Love You. Holly's mother and best friends begin to worry that Gerry's letters are keeping Holly tied to the past, but in fact, each letter is pushing her further into a new future. With Gerry's words as her guide, Holly embarks on a journey of rediscovery in a story about marriage, friendship and how a love so strong can turn the finality of death into a new beginning for life.
Comments