Drive
total: 10

Brigada
total: 9

Fast Five
total: 23

Tres metros sobre el cielo
total: 15
Pirates of the Caribbean: At World's End Soundtrack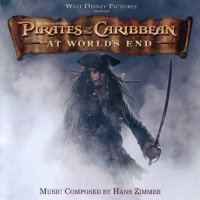 Original Motion Picture Soundtrack / OST

By:
Hans Zimmer
Release date:
22.05.2007
Bitrate:
~320 kbps
Length:
55:56 (13 tracks)
Size:
129.71 MB
Best review is still not choosen. Your's can become the BEST! Be the first... Write review
There is another version of soundtrack to this movie

Pirates of the Caribbean: At World's End: Complete Score
by Hans Zimmer
Tracklist. Online preview
Put online player to your blog, website or forum.
#
Hans Zimmer — Pirates of the Caribbean: At World's End
Length

preview

Bitrate
Size
1.
Hoist The Colours
Hans Zimmer
1:31

need Flash

320
3.48
2.
Singapore
Hans Zimmer
3:41

need Flash

320
8.43
3.
At Wit's End
Hans Zimmer
8:06

need Flash

320
18.54
4.
Multiple Jacks
Hans Zimmer
3:52

need Flash

320
8.85
5.
Up Is Down
Hans Zimmer
2:42

need Flash

320
6.19
6.
I See Dead People In Boats
Hans Zimmer
7:09

need Flash

320
16.38
7.
The Brethren Court
Hans Zimmer
2:21

need Flash

320
5.39
8.
Parlay
Hans Zimmer
2:10

need Flash

320
4.98
9.
Calypso
Hans Zimmer
3:03

need Flash

320
6.98
10.
What Shall We Die For
Hans Zimmer
2:02

need Flash

320
4.69
11.
I Don't Think Now Is He Best Time
Hans Zimmer
10:46

need Flash

320
24.63
12.
One Day
Hans Zimmer
4:01

need Flash

320
9.22
13.
Drink Up Me Hearties
Hans Zimmer
4:32

need Flash

320
10.38
55:56
129.71
Plot summary
After Elizabeth, Will, and Captain Barbossa rescue Captain Jack Sparrow from the the land of the dead, they must face their foes, Davy Jones and Lord Cutler Beckett. Beckett, now with control of Jones' heart, forms a dark alliance with him in order to rule the seas and wipe out the last of the Pirates. Now, Jack, Barbossa, Will, Elizabeth, Tia Dalma, and crew must call the Pirate Lords from the four corners of the globe, including the infamous Sao Feng, to gathering. The Pirate Lords want to release the goddess Calypso, Davy Jones's damned lover, from the trap they sent her to out of fear, in which the Pirate Lords must combine the 9 pieces that bound her by ritual to undo it and release her in hopes that she will help them fight. With this, all pirates will stand together and will make their final stand for freedom against Beckett, Jones, Norrington, the Flying Dutchman, and the entire East India Trading Company.
Comments