Groupies bleiben nicht zum Frühstück
total: 153

Mirror Mirror
total: 106

Tengo ganas de ti
total: 38

The Wild
total: 12
Paragraph 78 Soundtrack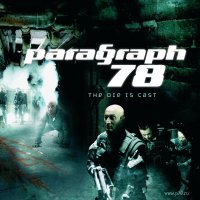 Best review is still not choosen. Your's can become the BEST! Be the first... Write review
Tracklist. Online preview
Put online player to your blog, website or forum.
#
VA — Paragraph 78
Length

preview

Bitrate
Size
1.
Snuggle
Tobias Enhus
2:13

need Flash

191
3.03
2.
P78 Main Theme
Tobias Enhus
3:17

need Flash

247
5.81
3.
Time Is My Everything
Ian Brown
3:54

need Flash

235
6.55
4.
Breakfast In Bed
Tobias Enhus
3:32

need Flash

223
5.62
5.
Get Myself Into It
The Rapture
5:18

need Flash

241
9.12
6.
Boxcar
The Rosebuds
3:42

need Flash

235
6.23
7.
Over And Over
Hot Chip
6:23

need Flash

228
10.39
8.
Hands Around My Throat
Death In Vegas
5:28

need Flash

227
8.89
9.
Helicopter
Tobias Enhus
1:40

need Flash

221
2.63
10.
On Track
Ian Brown
4:41

need Flash

203
6.80
11.
Scorpio Rising
Brett Anderson и Мумий Тролль
4:02

need Flash

237
6.83
12.
Boom!
Tobias Enhus
4:01

need Flash

233
6.69
13.
Ответ 78
The Crystal Method feat. Слава
4:36

need Flash

259
8.52
14.
P78 [bonus]
Tobias Enhus
4:05

need Flash

261
7.62
15.
Club P78 [bonus]
Tobias Enhus
6:10

need Flash

228
10.04
63:02
104.96
Plot summary
Future: soft drugs legalized, countries such as Asian Union and Latin States of America appeared. An assault group under the command of Gudvin (Gosha Kutsenko) breaks apart because of his conflict with Skif (Vladimir Vdovichenkov).

Time slipped by. Five years later Lisa (Anastasiya Slanevskaya) divorced with Skif and married Gudvin. Russia, Asian Union and the Latin States watchs closely after each other in case of WMD production cessation.

A state of emergency declared at one of the secret laboratories of the Russian Ministry of Defense on one of the island in the Arctic Ocean causing emergency beacon started to operate. Now the other countries can possibly locate this base. To prevent this from happening Gudvin assembles his former group. By that time Spam (Anatoli Belyj) is jailed, Luba (Stanislav Duzhnikov) works in that prison as a warden, Festival (Grigori Siyatvinda) is engaged in commerce of banned drugs (lysergic acid), Pai (Azis Beyshinaliev) works in a casino, Skif ruins himself with drink.

Together they departs to that island to penetrate the military base...
Comments