Drive
total: 10

Brigada
total: 9

Fast Five
total: 23

Tres metros sobre el cielo
total: 15
Take the Lead Soundtrack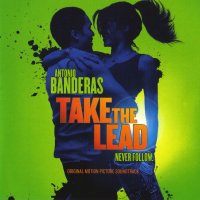 Best review is still not choosen. Your's can become the BEST! Be the first... Write review
Tracklist. Online preview
Put online player to your blog, website or forum.
#
VA — Take the Lead
Length

preview

Bitrate
Size
1.
I Got Rhythm (Take the Lead Remix)
Lena Horne & Q-Tip
2:17

need Flash

256
4.20
2.
Take the Lead (Wanna Ride)
Bone Thugs -N- Harmony and Wisin & Yandel feat. Fatman Scoop & Melissa Jimenez
3:29

need Flash

256
6.37
3.
Feel It
Black Eyed Peas
4:21

need Flash

256
7.98
4.
I Like That (Stop)
Jae Millz
3:45

need Flash

256
6.88
5.
These Days
Rhymefest
3:40

need Flash

256
6.73
6.
Here We Go
Dirtbag
3:42

need Flash

256
6.78
7.
Whuteva
Remy Ma
3:47

need Flash

256
6.95
8.
Ya Ya (Al Stone Mix)
The Empty Heads
3:07

need Flash

256
5.72
9.
Never Gonna Get It
Sean Biggs feat. Topic & Akon
3:37

need Flash

256
6.63
10.
I Like That You Can't Take That Away from Me
Jae Millz, June Christy, Eric B. & Rakim & Mashonda
2:29

need Flash

256
4.56
11.
Fascination
Kem
4:49

need Flash

256
8.83
12.
Que Sera, Sera (Whatever Will Be, Will Be) [bonus]
Sly & the Family Stone
5:20

need Flash

256
9.76
44:23
81.87
Plot summary
Based on a true story, the movie tells of the struggle of a dance teacher, Pierre Dulain, to give to a group of problem kids a second chance by exploring their dance skills. One night Dulain is astonished to see a boy, Rock destroying his school director's car. The following day Dulaine goes to the school to ask for a job as a dance teacher. The director has little confidence in Dulaine's idea of helping kids (including Rock) in detention to reform through ballroom dance classes. Even the kids, who prefer hip-hop or rap, think it isn't a great idea. Despite criticism from students in his formal dance academy as well as from parents and fellow teachers who believe that the kids need more math and less dance, Dulain catches the students' attention with a tango session. After their initial indifference, they eventually compete in a dance contest; the important thing isn't winning, but making a difference.
Comments