Drive
total: 10

Brigada
total: 9

Fast Five
total: 23

Tres metros sobre el cielo
total: 15
Kidulthood Soundtrack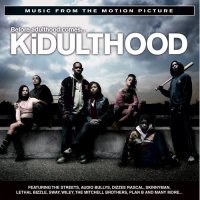 Original Motion Picture Soundtrack / OST

Release date:
27.02.2006
Length:
75:07 (25 tracks)
Best review is still not choosen. Your's can become the BEST! Be the first... Write review
Tracklist. Online preview
#
VA — Kidulthood
Length
1.
Trevor's Uncle
Skit
0:07
2.
Kidulthood Opening Theme
The Angel
3:36
3.
Water Torture
Cee Why feat. Tommy Evans & Jehst
5:02
4.
Stay Positive
The Streets
5:26
5.
I've Got A Roll Up
Skit
0:06
6.
Roll Wid Us
Akala
4:03
7.
Jus' A Rascal
Dizzee Rascal
3:42
8.
Woman's World (Gurlz Stand Up)
Skystie
3:25
9.
We Ain't Backin You No More
Skit
0:45
10.
Day To Day Basis
Skinnyman
2:29
11.
What Would You Do?
The Angel
2:05
12.
Turned Away
Audio Bullys
4:16
13.
I'm Gonna Bang Dem Up
Skit
0:11
14.
It's Murda
Klashnekoff
4:47
15.
Witness
Roots Manuva
4:11
16.
On The DL
The Angel
1:53
17.
Supo Mungam
Arkane
3:14
18.
POW
Lethal Bizzle
3:01
19.
Give Me One Good Reason
Skit
0:09
20.
All Things To All Men
Cinematic Orchestra feat. Roots Manuva
4:02
21.
Kidz (Acoustic Version) [bonus]
Plan B
4:07
22.
G.C.S.E [bonus]
Blak Twang feat. K9
4:30
23.
Smart Bastard [bonus]
The Mitchell Brothers
3:36
24.
Up Your Speed [bonus]
Sway feat. Pyrelli
2:59
25.
I Was Lost [bonus]
Wiley
3:25
75:07
Plot summary
For 15-year-old Trife, a boy from West London, life is a day-to-day struggle. Trapped between the worlds of his school friends, the girl he loves, and the draw of his powerful and dangerous uncle, Trife must choose between a path that he knows is right and a life of guns drugs and violence that he has come to know only too well.

When a class mate's suicide leaves Trife and his crew, Mooney and Jay, with the day off school it seems as though circles of violence may have finally come to a tragic conclusion - but in a world where sex is currency, drugs are easy, and violence is a way of life, trouble can never to be too far around the corner.

Powerful, disturbing and moving. Kidulthood takes you deep into Londons unseen underbelly and delivers a gritty, hard-hitting reflection of what life is really like for 21st century teenagers.
Comments