Drive
total: 10

Brigada
total: 9

Fast Five
total: 23

Tres metros sobre el cielo
total: 15
Star Wars: Episode III - Revenge of the Sith Soundtrack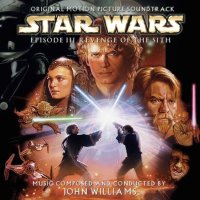 Very good soundtrack! Great job! As for me, composer have strong feeling of this film and star wars Atmosphere. John Williams's music is marvelous edition to the Lucas's genius film.
Write review
Tracklist. Online preview
#
John Williams — Star Wars: Episode III - Revenge of the Sith
Length
1.
Star Wars And Revenge Of The Sith
John Williams
7:31
2.
Anakin's Dream
John Williams
4:46
3.
Battle Of The Heroes
John Williams
3:42
4.
Anakin's Betrayal
John Williams
4:03
5.
General Grievous
John Williams
4:07
6.
Palpatine's Teachings
John Williams
5:25
7.
Grievous And The Droids
John Williams
3:27
8.
Padme's Ruminations
John Williams
3:16
9.
Anakin Vs Obi-Wan
John Williams
3:57
10.
Anakin's Dark Deeds
John Williams
4:05
11.
Enter Lord Vader
John Williams
4:14
12.
The Immolation Scene
John Williams
2:41
13.
Grievous Speaks To Lord Sidious
John Williams
2:49
14.
The Birth Of The Twins And Padme's Destiny
John Williams
3:37
15.
A New Hope And End Credits
John Williams
13:05
70:45
Plot summary
It is three years after the Clone Wars. The leader of the droid army, General Grievous, has captured Chancellor Palpatine on board his ship, the Invisible Hand. Jedi Master Obi-Wan Kenobi and Jedi Knight Anakin Skywalker must fly through Coruscant safely, and enter the Invisible Hand so that they can rescue the captive Chancellor. Just when Palpatine is about to be released, Count Dooku shows up. Obi-Wan and Anakin both battle it out with him, but Obi-Wan ends up unconscious. Anakin slices off his head and kills him. Anakin carries Obi-Wan, and Palpatine follows him. They meet General Grievous face to face, and Anakin tries to fly the last half of the ship so that they can safely land on Coruscant. Later, Palpatine starts acting strange, constantly manipulating Anakin into believing that the Jedi Council is against him. Eventually, it is found out that he is the Dark Lord of the Sith. Jedi Master Mace Windu fights him, along with three other Jedi that accompany Windu. They all fail. Anakin becomes Darth Vader, believing that he can save Padme from death by becoming evil. After a fierce battle between Obi-Wan and Anakin, Anakin gets fried by the lava at Mustafar. Palpatine takes him to a medical facility, where he gets fake legs and a fake arm attached to him, along with a breath mask, and a helmet. And thus, Darth Vader was born...the Death Star is shown under construction, a weapon of mass destruction that is sure to be used in the future.
Comments