Groupies bleiben nicht zum Frühstück
total: 153

Mirror Mirror
total: 106

Tengo ganas de ti
total: 38

The Wild
total: 12
Fantastic Four Soundtrack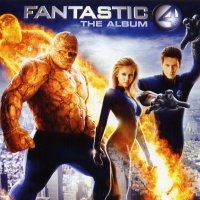 Best review is still not choosen. Your's can become the BEST! Be the first... Write review
Tracklist. Online preview
Put online player to your blog, website or forum.
#
VA — Fantastic Four
Length

preview

Bitrate
Size
1.
Come On, Come In
Velvet Revolver
3:59

need Flash

192
5.48
2.
Error Operator
Taking Back Sunday
3:10

need Flash

192
4.35
3.
Relax
Chingy
3:31

need Flash

192
4.84
4.
What Ever Happened To The Heroes
Joss Stone
3:56

need Flash

192
5.41
5.
Waiting (Save Your Life)
Omnisoul
4:03

need Flash

192
5.55
6.
Always Come Back To You
Ryan Cabrera
3:33

need Flash

192
4.89
7.
Everything Burns
Ben Moody feat. Anastacia
3:42

need Flash

192
5.08
8.
New World Symphony
Miri Ben-Ari feat. Pharoahe Monch
4:01

need Flash

192
5.53
9.
Die For You (Fantastic Four Mix)
Megan McCauley
3:49

need Flash

192
5.25
10.
Noots
Sum 41
3:49

need Flash

192
5.26
11.
Surrender
Simple Plan
2:58

need Flash

192
4.09
12.
I'll Take You Down
T.F.F.
2:50

need Flash

192
3.91
13.
On Fire
Lloyd Banks
3:08

need Flash

192
4.30
14.
Reverie
Megan McCauley
3:55

need Flash

192
5.39
15.
Goodbye To You
Breaking Point
3:52

need Flash

192
5.31
16.
Shed My Skin
Alter Bridge
5:09

need Flash

192
7.07
17.
In Due Time
Submersed
4:05

need Flash

192
5.60
18.
Disposable Sunshine
Loser
3:27

need Flash

192
4.75
19.
Now You Know
Miss Eighty 6 feat. Classic
3:03

need Flash

192
4.21
20.
Kirikirimai (Fantastic Four Remix) [bonus]
Orange Range
3:14

need Flash

192
4.45
73:14
101.02
Plot summary
Reed Richards, a brilliant but timid and bankrupt scientist, is convinced that evolution can be triggered by clouds of cosmic energy, and has calculated that Earth is going to pass one of these clouds soon. Together with his friend and partner, the gruff yet gentle astronaut muscle-man Ben Grimm, Reed convinces his conceited MIT classmate Dr. Victor Von Doom, now CEO of his own enterprise, to allow him access to his privately-owned space station. Von Doom agrees in exchange for control over the experiment and a majority of the profits from whatever benefits it brings. He thus brings aboard Susan Storm, his shy, though assertive chief genetics researcher and a former lover of Reed's with whom she had an acrimonious break-up, and her diametrically opposed brother Johnny, the maverick and hot-headed playboy pilot. The astronauts make it home intact; however, before long they begin to mutate, developing strange and amazing powers as a result of their exposure to the cloud! Reed is able to stretch like rubber; Sue can turn invisible and create force fields, especially when angered; Johnny can produce fire at supernova temperatures, and is able to fly; and Ben is transformed into "The Thing", a large, rock-like creature with super strength. After Ben, brooding about his situation on the Brooklyn Bridge, inadvertently causes a major traffic pile-up whilst attempting to stop a man about to commit suicide, the four manage to use their powers to prevent any loss of life and to rescue a fire truck and its crew from falling off the bridge in a resulting explosion. The media dubs the team the 'Fantastic Four', and whilst Johnny eagerly embraces his powers and new life, Ben - the most heavily disfigured - particularly suffers from his transformation; his disfigurement has caused his fiancée to abandon him and has seen him shunned and feared by much of New York. Blaming himself, Reed vows to return Ben to his human form, and he, Sue and Ben work on a cure, constructing a healing chamber in Reed's high tech Baxter Building loft-turned-laboratory. During this time, Reed and Susan begin to grow close once again, and Susan admits that she is not interested in Victor, but ended their relationship because Reed feared to commit, thinking only in terms of variables. Unknown to the others, however, Victor's body is also mutating; he is turning into organic metal capable of absorbing and manipulating electrical energy known as Doctor Doom. As a result of the disastrous expedition, his company is going bankrupt and he is losing public stature; blaming Reed for his misfortunes, Victor swears revenge. And Reed, Ben, Susan, and Johnny must defeat Victor Von Doom and foil his evil plans once and for all.
Comments