Groupies bleiben nicht zum Frühstück
total: 153

Mirror Mirror
total: 106

Tengo ganas de ti
total: 38

The Wild
total: 12
American Pie Presents Band Camp Soundtrack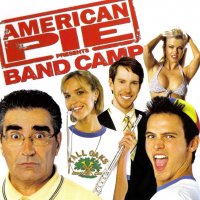 Original Motion Picture Soundtrack / OST

Release date:
31.10.2005
Bitrate:
~197 kbps
Length:
52:09 (15 tracks)
Size:
74.26 MB
Best review is still not choosen. Your's can become the BEST! Be the first... Write review
Tracklist. Online preview
Put online player to your blog, website or forum.
#
VA — American Pie Presents Band Camp
Length

preview

Bitrate
Size
1.
She Is Beautiful
Andrew Wk
3:36

need Flash

128
3.30
2.
Laid
Matt Nathanson
3:02

need Flash

256
5.56
3.
American Psycho
Treble Charger
3:23

need Flash

128
3.10
4.
The Anthem
Good Charlotte
2:54

need Flash

128
2.65
5.
Jimmy Eat World
The Authority Song
3:37

need Flash

320
8.29
6.
Disco Mf
The Penfifteen Club
3:58

need Flash

160
4.56
7.
Hot Blooded Woman
Vanessa Petruo
3:28

need Flash

192
4.76
8.
Aeroplane
Tal Bachman
4:07

need Flash

256
7.55
9.
Vampire Love
Ash
3:46

need Flash

221
5.94
10.
I Touch Myself
The Divinyls
3:45

need Flash

128
3.43
11.
Be the Girl
Aslyn
3:00

need Flash

239
5.13
12.
Do You Want to Touch Me (Oh Yeah)
Joan Jett and the Blackhearts
3:44

need Flash

192
5.14
13.
Ready to Roll
Flashlight Brown
2:51

need Flash

128
2.62
14.
How to Be Dead
Snow Patrol
3:22

need Flash

256
6.17
15.
Forget It
Breaking Benjamin
3:36

need Flash

223
5.75
52:09
74.26
Plot summary
Matt Stifler, the younger brother of the legendary Steve Stifler, who made it big as Hollywood porn-producer and shamelessly ignores the idolizing kid brother, may claim the title of Stifmeister as his heritage, but even for his horniest mates he's little more then a bad joke. When Matt alone gets caught red-handed for a prank with the school band's instruments, present high school counselor Sherman 'Sherminator' finds great pleasure in taking revenge on him for the misbehavior Steve excelled even worse in, so instead of expelling the little prick, he condemns him to take part in band camp at Great Oaks, where Jim Levenstein's still understanding dad is filling in for the feared problem counselor. As there are plenty of girls in the competing bands, Matt hopes to turn his (mis)fortune around by smuggling in camera equipment including a robot to shoot saucy, clandestine material for his counterpart to Steve's hit video "Girls Gone Wild", an at least as 'revealing' Bandies Gone Wild. Matt's nerdy, yet also horny roomie Ernie was originally confined to the closet, but is promoted to assistant-producer when he proves himself an invaluable technician. Things get complicated as Matt becomes romantically involved with Elyse, his own school band's director, whose ambition is to beat haughty five-fold winner Brandon Vandecamp -son of a famous, rich father- as band music composer and thus win a good shot at a scholarship for an exclusive music school. For her sake Matt turns musician (on the trivial triangle by her decree, bagpipes in surprising scenes) and proves his leadership skills, but courting a 'decent' girl just doesn't square with voyeurism...
Comments