Drive
total: 10

Brigada
total: 9

Fast Five
total: 23

Tres metros sobre el cielo
total: 15
Saw Soundtrack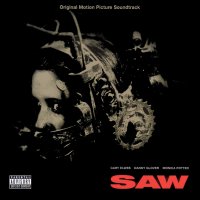 Best review is still not choosen. Your's can become the BEST! Be the first... Write review
Tracklist. Online preview
Put online player to your blog, website or forum.
#
VA — Saw
Length

preview

Bitrate
Size
1.
Line Assembly
Sturm Front
6:07

need Flash

320
14.02
2.
Hello, Adam
Charlie Clouser
3:58

need Flash

320
9.08
3.
Bite The Hand That Bleeds
Fear Factory
4:02

need Flash

320
9.23
4.
Last I Heard
Charlie Clouser
4:41

need Flash

320
10.72
5.
Action
Enemy
3:43

need Flash

320
8.53
6.
Reverse Beartrap
Charlie Clouser
4:47

need Flash

320
10.96
7.
You Make Feel So Dead
Pitbull Daycare
3:49

need Flash

320
8.74
8.
X Marks The Spot
Charlie Clouser
4:34

need Flash

320
10.47
9.
Wonderful World
Psycho Pomps
5:00

need Flash

320
11.47
10.
Cigarette
Charlie Clouser
3:07

need Flash

320
7.16
11.
We're Out Of Tme
Charlie Clouser
3:48

need Flash

320
8.72
12.
Fuck This Shit
Charlie Clouser
4:09

need Flash

320
9.51
13.
Hello Zepp
Charlie Clouser
3:00

need Flash

320
6.89
14.
Zepp Overature
Charlie Clouser
2:38

need Flash

320
6.05
57:23
131.70
Plot summary
Two men wake up at opposite sides of a dirty, disused bathroom, chained by their ankles to pipes. Between them lies a dead man loosely clutching a hand-held tape player and a handgun. Each finds a tape the perfect fit for the player in their back pocket. They play the tapes. One is threatened, the other isn't. But they have a task: One must kill the other by 6:00, or his wife and daughter will die. They find hacksaws in a toilet, and try to cut the chains, but it doesn't work. They are the two newest victims of the Jigsaw Killer. In a flashback, we learn of Amanda, a girl who falls victim to the Jigsaw Killer. On her head is a mask, which is hooked into her lower jaw. There is a timer on it. Only one key will unlock it, and that key is in the digestive tract of her cell mate who lies paralyzed on the opposite side of the room. If she doesn't unlock the mask in time, her lower jaw will be ripped wide open. She survives, but her cell mate doesn't. Through a series of flashbacks, we learn of more victims, and of the nearly-successful capture of the Jigsaw Killer, who doesn't actually kill his victims. Instead, he finds ways to make them kill either themselves, or each other, and he thinks the entire 'game' out perfectly, with no other ways out. Or so it would seem.
Comments