Drive
total: 10

Brigada
total: 9

Fast Five
total: 23

Tres metros sobre el cielo
total: 15
Resident Evil: Apocalypse Soundtrack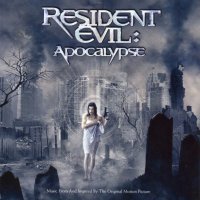 Original Motion Picture Soundtrack / OST

Release date:
31.08.2004
Bitrate:
~256 kbps
Length:
76:21 (18 tracks)
Size:
140.22 MB
Best review is still not choosen. Your's can become the BEST! Be the first... Write review
Tracklist. Online preview
Put online player to your blog, website or forum.
#
VA — Resident Evil: Apocalypse
Length

preview

Bitrate
Size
1.
Vermilion
Slipknot
4:14

need Flash

256
7.76
2.
Just a Little
The Used
3:28

need Flash

256
6.34
3.
Us or Them
The Cure
4:10

need Flash

256
7.64
4.
Swamped
Lacuna Coil
3:59

need Flash

256
7.31
5.
The Outsider (Renholder Mix)
A Perfect Circle
5:27

need Flash

256
9.97
6.
The End of Heartache
Killswitch Engage
4:04

need Flash

256
7.47
7.
Mein Teil
Rammstein
4:23

need Flash

256
8.04
8.
Digging Up the Corpses
Devildriver
3:52

need Flash

256
7.10
9.
Nymphetamine
Cradle of Filth
5:01

need Flash

256
9.20
10.
Escape from Hellview
Cky
3:42

need Flash

256
6.80
11.
The Chauffeur
Deftones
5:24

need Flash

256
9.91
12.
Join Me in Death
Him
3:37

need Flash

256
6.63
13.
My Heartstrings Come Undone
Demon Hunter
4:38

need Flash

256
8.50
14.
Under a Killing Moon
Thrice
2:42

need Flash

256
4.95
15.
Bloodwork
36 Crazyfists
3:12

need Flash

256
5.88
16.
End the World (Acoustic)
Cold
3:37

need Flash

256
6.63
17.
Girl on Fire (Resident Renholder Mix)
Rob Zombie
5:11

need Flash

256
9.49
18.
Future Proof
Massive Attack
5:40

need Flash

256
10.37
76:21
140.22
Plot summary
Alice awakens from a terrible sleep to find her worst fears realized--the bloodthirsty Undead, which she and the now-annihilated squad of elite military fought to destroy, have been unleashed on the city that surrounds the secret facility of the Umbrella Corporation. Discovering she was an Umbrella experiment, Alice has been bio-genetically enhanced with new strengths, senses and dexterity--and she will need them. In the heart of the ravaged Raccoon City, a small group of uninfected people, including Jill Valentine, a recently demoted member of Umbrella Corp's elite Special Tactics and Rescue Services team, and S.T.A.R.S team leader Carlos Oliveira, fight for their lives against swarms of Undead and the deadlier and faster Lickers. Running out of luck and resources, the group is rescued by Alice, and they begin to wage an exhilarating battle to survive and escape before the Umbrella Corporation erases its experiment from the face of the earth. Their only hope lies somewhere within Raccoon City--Dr Charles Ashford, one of the leading scientists for the Umbrella Corporation, will help Alice and the others escape the city safely--if they find his daughter. Angie Ashford became separated from her father and now hides in fear. Alice, Jill and Carlos will have to fight their way through an army of Undead to save her. All the while, a secret weapon code-named Nemesis has been experimentally altered with greater modifications than Alice and has been programmed to track and destroy them. They will need all their strengths and skills to fight the battle of their lives against the mindless evil that has infected the city and the powerful forces that unleashed it on mankind.
Comments