Drive
total: 10

Brigada
total: 9

Fast Five
total: 23

Tres metros sobre el cielo
total: 15
Raise Your Voice Soundtrack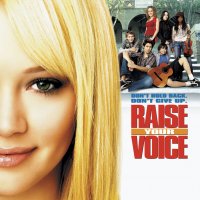 Best review is still not choosen. Your's can become the BEST! Be the first... Write review
Tracklist. Online preview
Put online player to your blog, website or forum.
#
VA — Raise Your Voice
Length

preview

Bitrate
Size
1.
Fly
Hilary Duff
3:45

need Flash

192
5.15
2.
Home
Three Days Grace
4:22

need Flash

192
6.00
3.
Walking On Sunshine
Katrina And The Waves
3:59

need Flash

192
5.47
4.
Change In My Condition
Keegan
3:19

need Flash

192
4.56
5.
Jericho
Hilary Duff
3:57

need Flash

192
5.43
6.
Are You Ready?
Three Days Grace
2:48

need Flash

192
3.84
7.
We Might As Well Be Strangers
Keane
3:12

need Flash

192
4.40
8.
Play It Loud
Mxpx
3:18

need Flash

192
4.54
9.
Someone's Watching Over Me
Hilary Duff
4:13

need Flash

192
5.79
32:53
45.46
Plot summary
A teenage girl, Terri, has a passion for music. School's out and she wants to spend the summer at a performing arts academy in L.A. She is encouraged by her mother and brother but has a hard time convincing her father, who is a little rough around the edges. Things go bad when she sneaks her brother, Paul, out to a concert and they both end up in a car crash. Terri survives but Paul was less fortunate and he died. Terri was devastated and she decides to quit music, but with a little encouragement and a sly plan from her family (except her father) she decides to go ahead to L.A. Noone is nice to her at the academy at first but gradually they got better and she made some friends; Kiwi, Denise and Jay whom she starts dating after awhile. She also meets some bullies; Robin and her friends. Throughout her time there, she learns that her brother is the reason she got accepted in the first place. She gets closer to Jay, while continuing to lie to her dad. Haunted by her brothers death, her musical talents intensify.
Comments