Drive
total: 10

Brigada
total: 9

Fast Five
total: 23

Tres metros sobre el cielo
total: 15
National Treasure Soundtrack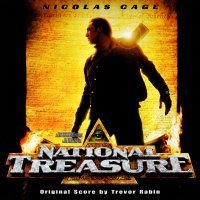 Original Motion Picture Soundtrack / OST

By:
Trevor Rabin
Release date:
16.11.2004
Bitrate:
~320 kbps
Length:
38:52 (12 tracks)
Size:
89.43 MB
Best review is still not choosen. Your's can become the BEST! Be the first... Write review
Tracklist. Online preview
Put online player to your blog, website or forum.
#
Trevor Rabin — National Treasure
Length

preview

Bitrate
Size
1.
National Treasure Suite
Trevor Rabin
3:18

need Flash

320
7.55
2.
Ben
Trevor Rabin
4:04

need Flash

320
9.31
3.
Finding Charlotte
Trevor Rabin
1:05

need Flash

320
2.50
4.
Library of Congress
Trevor Rabin
2:27

need Flash

320
5.62
5.
Preparation Montage
Trevor Rabin
4:54

need Flash

320
11.22
6.
Arrival at National Archives
Trevor Rabin
1:55

need Flash

320
4.40
7.
The Chase
Trevor Rabin
4:23

need Flash

320
10.03
8.
Declaration of Independence
Trevor Rabin
1:44

need Flash

320
3.97
9.
Foot Chase
Trevor Rabin
3:35

need Flash

320
8.20
10.
Spectacle Discovery
Trevor Rabin
3:18

need Flash

320
7.57
11.
Interrogation
Trevor Rabin
4:30

need Flash

320
10.31
12.
Treasure
Trevor Rabin
3:39

need Flash

320
8.36
38:52
89.43
Plot summary
Ben Gates comes from a family of treasure hunters. Now his grandfather believes that the forefathers' buried a treasure somewhere in the country and have placed clues everywhere but unfortunately the clues are highly cryptic and scaterred all over the place. Now Ben thinks he has found it but it only leads him to another clue which is on the back of the Declaration of Independence. Now one of his associates Ian wants to steal it so that they could get the clue but Ben refuses to do it so he tries to kill Ben. But Ben evades him and tries to warn the authorities about Ian's plans but they don't believe him. So Ben takes it upon himself to steal it in order to protect it. And he does but Abigail Chase the curator of the National Archives, where it is kept, discovers what he has done and tries to stop him but gets caught in the crossfire between Ben and Ian, so Ben takes her with him. While she doesdn't believe him, he is determined to prove he is right about the treasure. But it won't be easy cause Ian's always a step behind him and he is being hunted by the FBI.
Comments