Drive
total: 10

Brigada
total: 9

Fast Five
total: 23

Tres metros sobre el cielo
total: 15
Immortel (ad vitam) Soundtrack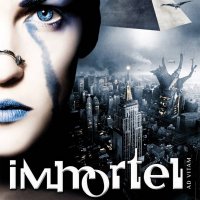 | | | | |
| --- | --- | --- | --- |
| | koike • rate: 9 / 10 | | +0 / −0 |
Pido disculpas por no saber hablar en Ruso... Esta pelicula, en lo personal , me ha gustado mucho, quizas por la excelente trama que tiene y el ritmo tan frivolo y lento. Muy buenos personajes , en especial John, quien es de hecho uno de mis favoritos. Tambien me gusta el hecho de que usen un elemento visto desde muchos angulos. En si, el soundtrack te envuelve en la pelicula... me gusta mucho.
Write review
Tracklist. Online preview
#
Goran Vejvoda — Immortel (ad vitam)
Length
1.
Horus Pop Mix
Goran Vejvoda
2:40
2.
T.B. Bar 00
Goran Vejvoda
1:29
3.
T.B. Bar 01
Goran Vejvoda
3:01
4.
Dayhux
Goran Vejvoda
1:29
5.
T.B. Bar 02 (Schlafen Mix)
Goran Vejvoda
3:15
6.
Poursuite
Goran Vejvoda
3:08
7.
June in January
Julie London
2:07
8.
Tour F L
Goran Vejvoda
2:08
9.
Nikopol Deux
Goran Vejvoda
1:27
10.
Petit Paris
Goran Vejvoda
1:55
11.
Nuit NYC
Goran Vejvoda
2:06
12.
Nikopol
Goran Vejvoda
1:56
13.
Nights in White Satin
Alain Bashung
4:49
14.
Jill & Nikopol Passion
Goran Vejvoda
3:03
15.
Levitation
Goran Vejvoda
1:44
16.
Nikopol Cordes
Goran Vejvoda
1:11
17.
Horus
Goran Vejvoda
2:32
18.
My Dear Friend
Julie Delpy
3:14
19.
Brooklin Pont
Goran Vejvoda
1:16
20.
T.B. Bar 03
Goran Vejvoda
1:58
21.
Bureau de John
Goran Vejvoda
1:44
22.
Cabinet Elma
Goran Vejvoda
2:26
23.
Ambulance
Goran Vejvoda
1:04
24.
Debut
Goran Vejvoda
1:34
25.
Beatiful Days
Venus
7:59
61:15
Plot summary
This movie is set in the year 2095, hence the presence of mutant humans and extraterrestrials. The main character is known as Jill (Linda Hardy). She is not human. When she is discovered by Dr Elma Turner (Charlotte Rampling) she is diagnosed as being the most interesting genetic test subject Turner has ever come across. Her organs are not in the right place, she has no memory and she appears, biologically to be only three months old. Turner gives her a break, gives her an identity card and a place to stay, in exchange for being her guinea-pig to work on and discover more about. Nicopol is a frozen prisoner who is due to be released a year after the film is set. There is a problem in the prisoner ward and several are thrown down to grow (dying in the process), including Nicopol (but only his leg). There is a lot more to this story but I can't disclose it in this summary, I don't have the words.
Comments