Drive
total: 10

Brigada
total: 9

Fast Five
total: 23

Tres metros sobre el cielo
total: 15
Vanilla Sky Soundtrack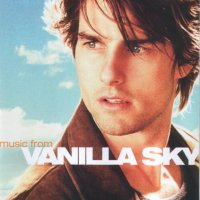 Best review is still not choosen. Your's can become the BEST! Be the first... Write review
Tracklist. Online preview
Put online player to your blog, website or forum.
#
VA — Vanilla Sky
Length

preview

Bitrate
Size
1.
All The Right Friends
R.E.M.
2:46

need Flash

320
6.34
2.
Everything In Its Right Place
Radiohead
4:09

need Flash

320
9.52
3.
Vanilla Sky
Paul McCartney
2:46

need Flash

320
6.35
4.
Solsbury Hill
Peter Gabriel
4:24

need Flash

320
10.07
5.
I Fall Apart
Julianna Gianni
3:52

need Flash

320
8.87
6.
Porpoise Song (Theme From 'Head')
The Monkees
2:53

need Flash

320
6.60
7.
Mondo '77 (Feat. Francis MacDonald)
Looper
4:54

need Flash

320
11.21
8.
Have You Forgotten
Red House Painters
5:29

need Flash

320
12.55
9.
Directions
Josh Rouse
3:25

need Flash

320
7.81
10.
Afrika Shox
Leftfield & Afrika Bambaataa
3:44

need Flash

320
8.57
11.
Svefn-G-Englar
Sigur Ros
9:16

need Flash

320
21.20
12.
Last Goodbye
Jeff Buckley
4:33

need Flash

320
10.42
13.
Can We Still Be Friends
Todd Rundgren
3:34

need Flash

320
8.17
14.
Fourth Time Around
Bob Dylan
4:36

need Flash

320
10.53
15.
Elevator Beat
Nancy Wilson
2:44

need Flash

320
6.26
16.
Sweetness Follows
R.E.M.
4:20

need Flash

320
9.92
17.
Where Do I Begin
The Chemical Brothers
6:29

need Flash

320
14.86
73:54
169.45
Plot summary
David Aames, a tycoon's son who, in the eyes of many, is a spoiled child who has no realization of his wealth or luck. Inhereting his fathers company after both parents were killed in a road accident some years prior, David meets a girl whom his friend brings to a lavish house party one night and instantly falls in love with her. Desperate to find out more about this mystery girl, he gets chatting to her, unfortunately a jilted lover is watching David at all times and plans her final plot. After surviving a car crash and having his face reconstructed courtesy of his 'jilted lover', David struggles to find out the truth when his dreams turn into reality, and what he thinks is reality, turns into nightmares. He knows he wants the Mystery girl he met at the party that night, but where is she? who is she? Everything seems muddled slightly, until a doctor manages to repair his face, and life is back to the way it should be, together with his mystery girl, or is it? Questions need to be answered, but who is to be asked and who has the answers.
Comments