Drive
total: 10

Brigada
total: 9

Fast Five
total: 23

Tres metros sobre el cielo
total: 15
Armageddon Soundtrack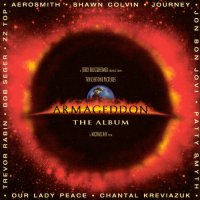 Best review is still not choosen. Your's can become the BEST! Be the first... Write review
There is another version of soundtrack to this movie

Armageddon: Score
by Trevor Rabin
Tracklist. Online preview
Put online player to your blog, website or forum.
#
VA — Armageddon
Length

preview

Bitrate
Size
1.
I Don't Want To Miss A Thing
Aerosmith
4:59

need Flash

320
11.41
2.
Remember Me
Journey
5:30

need Flash

320
12.58
3.
What Kind Of Love Are You On
Aerosmith
3:16

need Flash

320
7.48
4.
La Grange
ZZ Top
3:35

need Flash

320
8.21
5.
Roll Me Away
Bob Seger & The Silver Bullet Band
4:38

need Flash

320
10.62
6.
When The Rainbow Comes
Shawn Colvin
4:21

need Flash

320
9.96
7.
Sweet Emotion
Aerosmith
5:10

need Flash

320
11.83
8.
Mister Big Time
Jon Bon Jovi
2:47

need Flash

320
6.39
9.
Come Together
Aerosmith
3:44

need Flash

320
8.57
10.
Wish I Were You
Patty Smyth
3:50

need Flash

320
8.77
11.
Starseed
Our Lady Peace
4:21

need Flash

320
9.98
12.
Leaving On A Jet Plane
Chantal Kreviazuk
4:41

need Flash

320
10.71
13.
Theme From Armageddon
Trevor Rabin
3:08

need Flash

320
7.18
14.
Animal Crackers
Steven Tyler, Liv Tyler & Ben Affleck
2:35

need Flash

320
5.94
56:35
129.75
Plot summary
It is just another day at the National Aeronautics and Space Administration (NASA), a few astronauts were repairing a satellite until, out of nowhere, a series of asteroids came crashing into the shuttle, destroying it. These asteroids also decimated New York soon thereafter. Then, NASA discovered that there is an asteroid roughly the size of Texas heading towards the Earth, and when it does hit the Earth, the planet itself and all of its inhabitants will be obliterated, worse, the asteroid will hit the Earth in 18 days. Unfortunately, NASA's plans to destroy the asteroid are irrelevant. That is when the U.S. military decides to use a nuclear warhead to blow the asteroid to pieces. Then, scientists decide to blow the asteroid with the warhead inside the asteroid itself. The only man to do it, is an oil driller named Harry Stamper and his group of misfit drillers and geologists. As he and his drill team prepare for space excavation, the asteroid is still heading towards the Earth. When the crew are launched into outer space, they are determined to destroy this asteroid.
Comments