Drive
total: 10

Brigada
total: 9

Fast Five
total: 23

Tres metros sobre el cielo
total: 15
Titanic: Back to Titanic Soundtrack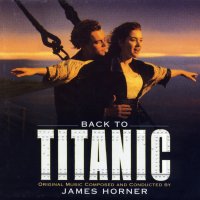 Best review is still not choosen. Your's can become the BEST! Be the first... Write review
There is another version of soundtrack to this movie

Titanic
by James Horner
Tracklist. Online preview
#
James Horner — Titanic: Back to Titanic
Length
1.
Titanic Suite
James Horner
19:06
2.
An Irish Party In Third Class
James Horner
3:49
3.
Alexander's Ragtime Band
James Horner
2:30
4.
The Portrait
James Horner
4:43
5.
Jack Dawson's Luck
James Horner
5:39
6.
A Building Panic
James Horner
8:09
7.
Nearer My God To Thee
James Horner
2:50
8.
Come Josephine, In My Flying Machine
James Horner
3:32
9.
Lament
James Horner
4:36
10.
A Shore Never Reached
James Horner
4:27
11.
My Heart Will Go On
James Horner
4:43
12.
Nearer My God To Thee
James Horner
2:22
13.
Epilogue - The Deep And Timeless Sea
James Horner
12:38
79:04
Plot summary
Won 11 Oscar nominations in 1998. Such:
— Best Music, Original Dramatic Score, James Horner
— Best Music, Original Song, James Horner (music), Will Jennings (lyrics), for the song "My Heart Will Go On", performed by Céline Dion.

84 years later a 100-year-old woman named Rose DeWitt Bukator tells the story to her granddaughter Lizzy Calvert, Brock Lovett, Lewis Bodine, Bobby Buell, and Anatoly Mikailavich on the Keldysh about her life set in April 10th 1912, on a ship called Titanic when young Rose boards the departing ship with the upper-class passengers and her mother, Ruth DeWitt Bukater, and her fiancé, Caledon Cal Hockley. Meanwhile, a drifter and artist named Jack Dawson and his best friend Fabrizio De Rossi win third-class tickets to the ship in a game. And she explains the whole story from departure until the death of Titanic on its first and last voyage April 15th, 1912 at 2:20 in the morning.
Comments