Drive
total: 10

Brigada
total: 9

Fast Five
total: 23

Tres metros sobre el cielo
total: 15
L.A. Confidential: Score Soundtrack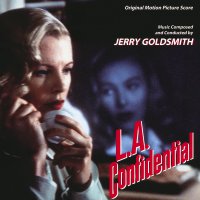 Original Motion Picture Soundtrack / OST

By:
Jerry Goldsmith
Release date:
25.11.1997
Bitrate:
~320 kbps
Length:
29:57 (11 tracks)
Size:
69.11 MB
Best review is still not choosen. Your's can become the BEST! Be the first... Write review
There is another version of soundtrack to this movie

L.A. Confidential
by Various Artists
Tracklist. Online preview
Put online player to your blog, website or forum.
#
Jerry Goldsmith — L.A. Confidential: Score
Length

preview

Bitrate
Size
1.
Bloody Christmas
Jerry Goldsmith
2:53

need Flash

320
6.61
2.
The Cafe
Jerry Goldsmith
2:22

need Flash

320
5.44
3.
Questions
Jerry Goldsmith
2:23

need Flash

320
5.47
4.
Susan Lefferts
Jerry Goldsmith
2:57

need Flash

320
6.76
5.
Out of the Rain
Jerry Goldsmith
2:49

need Flash

320
6.48
6.
Rollo Tomasi
Jerry Goldsmith
3:05

need Flash

320
7.08
7.
The Photos
Jerry Goldsmith
2:30

need Flash

320
5.75
8.
The Keys
Jerry Goldsmith
1:54

need Flash

320
4.35
9.
Shootout
Jerry Goldsmith
4:12

need Flash

320
9.63
10.
Good Lad
Jerry Goldsmith
2:20

need Flash

320
5.36
11.
The Victor
Jerry Goldsmith
2:32

need Flash

320
5.81
29:57
69.11
Plot summary
1950's Los Angeles is the seedy backdrop for this intricate noir-ish tale of police corruption and Hollywood sleaze. Three very different cops are all after the truth, each in their own style: Ed Exley, the golden boy of the police force, willing to do almost anything to get ahead, except sell out; Bud White, ready to break the rules to seek justice, but barely able to keep his raging violence under control; and Jack Vincennes, always looking for celebrity and a quick buck until his conscience drives him to join Exley and White down the one-way path to find the truth behind the dark world of L.A. crime.
Comments