Drive
total: 10

Brigada
total: 9

Fast Five
total: 23

Tres metros sobre el cielo
total: 15
The English Patient Soundtrack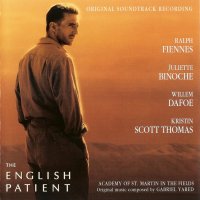 Original Motion Picture Soundtrack / OST

By:
Gabriel Yared
Release date:
26.11.1996
Length:
75:01 (28 tracks)
Best review is still not choosen. Your's can become the BEST! Be the first... Write review
Tracklist. Online preview
#
Gabriel Yared — The English Patient
Length
1.
The English Patient
Gabriel Yared
3:37
2.
A Retreat
Gabriel Yared
1:26
3.
Rupert Bear
Gabriel Yared
1:26
4.
What Else Do You Love?
Gabriel Yared
1:06
5.
Why Picton?
Gabriel Yared
1:09
6.
Cheek to Cheek
Gabriel Yared
3:20
7.
Kip's Lights
Gabriel Yared
1:29
8.
Hana's Curse
Gabriel Yared
2:11
9.
I'll Always Go Back to that Church
Gabriel Yared
1:54
10.
Black Nights
Gabriel Yared
1:57
11.
Swoon, I'll Catch You
Gabriel Yared
1:52
12.
Am I K. In Your Book?
Gabriel Yared
1:00
13.
Let Me Come In
Gabriel Yared
2:40
14.
Wang Wang Blues
Benny Goodman
2:53
15.
Convento Di Sant'Anna
Gabriel Yared
9:12
16.
Herodotus
Gabriel Yared
1:11
17.
Szerelem, Szerelem
Marta Sebestyen & Muzsikas
4:36
18.
Ask Your Saint Who He's Killed
Gabriel Yared
1:10
19.
One O'Clock Jump
Benny Goodman
3:15
20.
I'll Be Back
Gabriel Yared
4:03
21.
Let Me Tell You About Winds
Gabriel Yared
1:00
22.
Read Me To Sleep
Gabriel Yared
5:01
23.
The Cave Of Swimmers
Gabriel Yared
2:00
24.
Where Or When
Shepheard's Hotel Jazz Orchestra
2:18
25.
Aria From He Goldberg Variations
Julie Steinberg
3:04
26.
Cheek To Cheek
Ella Fitzgerald
3:47
27.
As Far As Florence
Gabriel Yared
5:12
28.
En Csak Azt Csodalom (Lullaby for Katharine)
Gabriel Yared
1:12
75:01
Plot summary
Winner of 9 Oscar nominations in 1997. Such:
Best Music, Original Dramatic Score, Gabriel Yared.

Beginning in the 1930's, "The English Patient" tells the story of Count Almasy who is a Hungarian map maker employed by the Royal Geographical Society to chart the vast expanses of the Sahara Desert along with several other prominent explorers. As World War II unfolds, Almasy enters into a world of love, betrayal, and politics that is later revealed in a series of flashbacks while Almasy is on his death bed after being horribly burned in a plane crash.
Comments