Drive
total: 10

Brigada
total: 9

Fast Five
total: 23

Tres metros sobre el cielo
total: 15
Pocahontas Soundtrack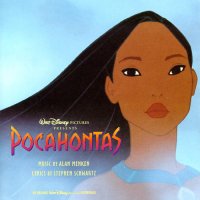 Best review is still not choosen. Your's can become the BEST! Be the first... Write review
Tracklist. Online preview
#
Alan Menken — Pocahontas
Length
1.
The Virginia Company
Chorus
1:30
2.
Ship At Sea
Judy Kuhn
2:34
3.
The Virginia Company (Reprise)
Alan Menken & Stephen Schwartz
0:35
4.
Steady As The Beating Drum (Main Title)
Alan Menken & Stephen Schwartz
1:46
5.
Steady As The Beating Drum (Reprise)
Alan Menken & Stephen Schwartz
0:45
6.
Just Around The Riverbend
Alan Menken & Stephen Schwartz
2:28
7.
Grandmother Willow
Alan Menken & Stephen Schwartz
1:27
8.
Listen With Your Heart I
Alan Menken & Stephen Schwartz
1:13
9.
Mine, Mine, Mine
Alan Menken & Stephen Schwartz
3:06
10.
Listen With Your Heart II
Linda Hunt and Bobbi Page
2:46
11.
Colors Of The Wind
Judy Kuhn
3:34
12.
Savages (Part 1)
Jim Cummings and Chorus
1:43
13.
Savages (Part 2)
Jim Cummings, Judy Kuhn with Chorus
2:15
14.
I'll Never See Him Again
Alan Menken & Stephen Schwartz
1:55
15.
Pocahontas
Vanessa Williams
1:22
16.
Council Meeting
Jon Secada and Shanice
1:12
17.
Percy's Bath
Mel Gibson with Chorus
0:51
18.
River's Edge
Chorus
1:28
19.
Skirmish
Jim Cummings
2:03
20.
Getting Acquainted
Alan Menken & Stephen Schwartz
1:30
21.
Ratcliffe's Plan
Linda Hunt and Bobbi Page
1:47
22.
Picking Corn
Mel Gibson, David Ogden Stiers with Chorus
0:55
23.
The Warriors Arrive
Alan Menken & Stephen Schwartz
1:23
24.
John Smith Sneaks Out
Alan Menken & Stephen Schwartz
1:14
25.
Execution
Alan Menken & Stephen Schwartz
1:34
26.
Farewell
Alan Menken & Stephen Schwartz
4:48
27.
Colors Of The Wind (End Title)
Alan Menken & Stephen Schwartz
4:18
28.
If I Never Knew You (Love Theme From Pocahontas)
Alan Menken & Stephen Schwartz
4:11
56:13
Plot summary
Winner of Oscar'1996 in nominations:
— Best Music, Original Musical or Comedy Score, Alan Menken, Stephen Schwartz;
— Best Music, Original Song, Alan Menken (music), Stephen Schwartz (lyrics) For the song "Colors of the Wind".

Capt. John Smith leads a rag-tag band of English sailors & soldiers to the New World to plunder its riches for England (or, more precisely, for Governor Ratcliffe, who comes along for the ride). Meanwhile, in this "New World," Chief Powhatan has pledged his daughter, Pocahontas, to be married to the village's greatest warrior. Pocahontas, however, has other ideas. She has seen a vision of a spinning arrow, a vision she believes tells her change is coming. Her life does indeed change when the English ship lands near her village. Between Ratcliffe, who believes the "savages" are hiding the gold he expected to be plentiful, and Powhatan, who believes these pale newcomers will destroy their land, Smith and Pocahontas have a difficult time preventing all-out war, and saving their love for each other.
Comments