Drive
total: 10

Brigada
total: 9

Fast Five
total: 23

Tres metros sobre el cielo
total: 15
Die Hard: With a Vengeance Soundtrack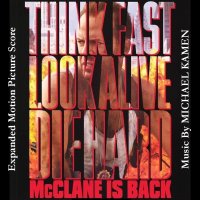 Original Motion Picture Soundtrack / OST

By:
Michael Kamen
Release date:
19.05.1995
Bitrate:
~320 kbps
Length:
75:28 (15 tracks)
Size:
173.07 MB
Best review is still not choosen. Your's can become the BEST! Be the first... Write review
Tracklist. Online preview
Put online player to your blog, website or forum.
#
Michael Kamen — Die Hard: With a Vengeance
Length

preview

Bitrate
Size
1.
Goodbye Bopnwits
Michael Kamen
6:30

need Flash

320
14.89
2.
John and Zeus
Michael Kamen
3:21

need Flash

320
7.69
3.
Papaya King
Michael Kamen
5:22

need Flash

320
12.30
4.
Take Another Train
Michael Kamen
2:57

need Flash

320
6.76
5.
March
Michael Kamen
5:30

need Flash

320
12.58
6.
Waltz Of The Bankers
Michael Kamen
4:15

need Flash

320
9.76
7.
The Iron Foundry
Michael Kamen
3:10

need Flash

320
7.25
8.
Find Out
Michael Kamen
0:44

need Flash

320
1.71
9.
Gold Valut
Michael Kamen
3:47

need Flash

320
8.67
10.
Symphony N9 Beethoven
Michael Kamen
9:50

need Flash

320
22.49
11.
Bobytrapp
Michael Kamen
1:01

need Flash

320
2.34
12.
Symphony N1 Brahms
Michael Kamen
15:03

need Flash

320
34.44
13.
Victory
Michael Kamen
3:04

need Flash

320
7.04
14.
Go For It / Surfing In Aquaduct
Michael Kamen
3:11

need Flash

320
7.29
15.
The Vegeance
Michael Kamen
7:43

need Flash

320
17.65
75:28
173.07
Plot summary
It's a quiet morning in New York City...until a massive bomb explodes in the Bonwit Teller department store, causing several vehicles to flip, and causing several drivers to come to a sudden stop. This throws the NYPD into a frenzy, trying to sort out what's going on. At the station, Inspector Walter Cobb of the NYPD's major case unit gets a call from a man who calls himself Simon. Simon asks for Lieutenant John McClane, and Walter tells Simon that John, who is now an alcoholic, is on suspension. Simon wants John to go to the corner of 138th Street and Amsterdam in Harlem and wear a racist sign. Walter and his fellow officers Joe Lambert, Connie Kowalski, and Ricky Walsh find John, who is now an alcoholic who is seperated from his wife Holly, and they talk to him. Ricky tells Walter that there have been 3 killings in the Red Hook section of Brooklyn in the past two nights, and 14 dump trucks were stolen from a construction yard on Staten Island. John wants to know where the backup is going to be, and Walter tells him that the backup will be on 128th Street, 10 blocks away. John complains that 10 blocks is too far away for the backup to be. Walter tells John that Simon has threatened to detonate another bomb if the police don't do what he says. John wants to know why he's been targeted by Simon, but no one knows why. While John is in Harlem, store owner Zeus Carver rescues John from a black street gang that was beating John up because of the sign. John and Zeus find themselves stuck with each other as Simon continues his antics and forces John and Zeus to work together to do what he tells them, but John and Zeus can't stop one of Simon's bombs from blowing up a subway station, and it turns out that Simon is Simon Peter Gruber the brother of Hans Gruber, the terrorist that John rescued the Nakatomi building from in Los Angeles years ago. The question now is, is this about revenge on John, or is Simon planning something a lot bigger?
Comments