Drive
total: 10

Brigada
total: 9

Fast Five
total: 23

Tres metros sobre el cielo
total: 15
The Lion King Soundtrack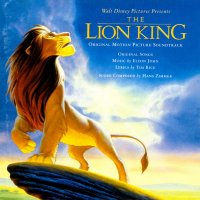 Best review is still not choosen. Your's can become the BEST! Be the first... Write review
Tracklist. Online preview
#
VA — The Lion King
Length
1.
Circle of Life
Carmen Twillie
3:59
2.
I Just Can't Wait to Be King
Jason Weaver, Rowan Atkinson & Laura Williams
2:51
3.
Be Prepared
Jeremy Irons, Whoopi Goldberg, Cheech Marin & Jim Cummings
3:40
4.
Hakuna Matata
Nathan Lane, Ernie Sabella, Jason Weaver & Joseph Williams
3:34
5.
Can You Feel the Love Tonight
Joseph Williams, Sally Dworsky, Nathan Lane & Ernie Sabella
2:57
6.
This Land
Hans Zimmer
2:55
7.
To Die For
Hans Zimmer
4:18
8.
Under the Stars
Hans Zimmer
3:45
9.
King of Pride Rock
Hans Zimmer
5:59
10.
Circle of Life
Elton John
4:51
11.
I Just Can't Wait to Be King
Elton John
3:37
12.
Can You Feel the Love Tonight (End Title)
Elton John
4:00
46:26
Plot summary
Won in two nominations of Oscar'1995:
— Best Music, Original Score, Hans Zimmer
— Best Music, Original Song, Elton John (music), Tim Rice (lyrics) for the song "Can You Feel the Love Tonight".

A young lion prince is born in Africa, thus making his uncle Scar the second in line to the throne. Scar plots with the hyenas to kill King Mufasa and Prince Simba, thus making himself King. The King is killed and Simba is led to believe by Scar that it was his fault, and so flees the kingdom in shame. After years of exile he is persuaded to return home to overthrow the usurper and claim the kingdom as his own thus completing the "Circle of Life".
Comments