Drive
total: 10

Brigada
total: 9

Fast Five
total: 23

Tres metros sobre el cielo
total: 15
Philadelphia Soundtrack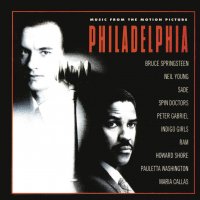 Original Motion Picture Soundtrack / OST

Release date:
23.12.1993
Bitrate:
~320 kbps
Length:
40:30 (10 tracks)
Size:
93.21 MB
Best review is still not choosen. Your's can become the BEST! Be the first... Write review
There is another version of soundtrack to this movie

Philadelphia: Score
by Howard Shore
Tracklist. Online preview
Put online player to your blog, website or forum.
#
VA — Philadelphia
Length

preview

Bitrate
Size
1.
Streets Of Philadelphia
Bruce Sprinsteen
3:54

need Flash

320
8.95
2.
Lovetown
Peter Gabriel
5:29

need Flash

320
12.57
3.
It's In Your Eyes
Pauletta Washington
3:46

need Flash

320
8.63
4.
Ibo Lele (Dreams Come True)
Ram
4:14

need Flash

320
9.72
5.
Please Send Me Someone To Love
Sade
3:43

need Flash

320
8.53
6.
Have You Ever Seen The Rain?
Spin Doctors
2:41

need Flash

320
6.15
7.
I Don't Wanna Talk About It
Indigo Girls
3:41

need Flash

320
8.45
8.
La Mamma Morta
Maria Callas
4:53

need Flash

320
11.20
9.
Philadelphia
Neil Young
4:06

need Flash

320
9.40
10.
Precedent
Howard Shore
4:03

need Flash

320
9.29
40:30
93.21
Plot summary
Won Oscar'1994 in nomination "Most Performed Songs from Motion Pictures, Bruce Springsteen, For the song "Streets of Philadelphia"."

Andrew Beckett, a gay lawyer infected with AIDS, is fired from his conservative law firm in fear that they might contract AIDS from him. After Andrew is fired, in a last attempt for peace, he sues his former law firm with the help of a homophobic lawyer, Joe Miller. During the court battle, Miller sees that Beckett is no different than anyone else on the gritty streets of the city of brotherly love, sheds his homophobia and helps Beckett with his case before AIDS overcomes him.
Comments