Groupies bleiben nicht zum Frühstück
total: 153

Mirror Mirror
total: 106

Tengo ganas de ti
total: 38

The Wild
total: 12
Last Action Hero Soundtrack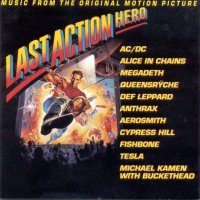 Best review is still not choosen. Your's can become the BEST! Be the first... Write review
Tracklist. Online preview
Put online player to your blog, website or forum.
#
VA — Last Action Hero
Length

preview

Bitrate
Size
1.
Big Gun
AcDc
4:26

need Flash

320
10.17
2.
What The Hell Have I
Alice In Chains
4:00

need Flash

320
9.17
3.
Angry Again
Megadeth
3:49

need Flash

320
8.77
4.
Real World
Queensryche
4:23

need Flash

320
10.06
5.
Two Steps Behind
Def Leppard
4:21

need Flash

320
9.96
6.
Poison My Eyes
Anthrax
7:07

need Flash

320
16.28
7.
Dream On
Aerosmith
5:45

need Flash

320
13.15
8.
A Little Bitter
Alice In Chains
3:55

need Flash

320
8.99
9.
Cock The Hammer
Cypress Hill
4:13

need Flash

320
9.67
10.
Swim
Fishbone
4:15

need Flash

320
9.74
11.
Last Action Hero
Tesla
5:47

need Flash

320
13.24
12.
Jack And The Ripper
Michael Kamen With Buckethead
3:46

need Flash

320
8.65
55:47
128.04
Plot summary
This is the story of young Danny Madigan who is a huge fan of Jack Slater, a larger-than-life action hero played by Arnold Schwarzenegger. When his best friend, Nick the projectionist, gives him a magic ticket to the newest Jack Slater film, Danny is transported into Slater's world, his number one hero where the good guys always win. It's a dream come true for Danny, but things take a turn for the worst when one of Slater's enemies, Benedict the hitman, gets a hold of the ticket and ends up in Danny's world, where he realizes that if he can kill Arnold Schwarzenegger, then Slater will be no more! Slater and Danny must join forces and travel back and stop him at all costs before it'll be the end of Jack Slater!
Comments