Groupies bleiben nicht zum Frühstück
total: 153

Mirror Mirror
total: 106

Tengo ganas de ti
total: 38

The Wild
total: 12
A League of Their Own: Score Soundtrack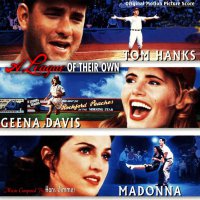 Original Motion Picture Soundtrack / OST

By:
Hans Zimmer
Release date:
01.07.1992
Bitrate:
~320 kbps
Length:
60:56 (15 tracks)
Size:
140.03 MB
Best review is still not choosen. Your's can become the BEST! Be the first... Write review
There is another version of soundtrack to this movie

A League of Their Own
by Various Artists
Tracklist. Online preview
Put online player to your blog, website or forum.
#
Hans Zimmer — A League of Their Own: Score
Length

preview

Bitrate
Size
1.
Main Titles
Hans Zimmer
2:13

need Flash

320
5.08
2.
War Commercial
Hans Zimmer
1:08

need Flash

320
2.61
3.
Race to the House
Hans Zimmer
3:00

need Flash

320
6.90
4.
The Station and the Field
Hans Zimmer
3:06

need Flash

320
7.12
5.
Training Playoffs
Hans Zimmer
2:30

need Flash

320
5.76
6.
Welcome to Jimmy's Ballgame
Hans Zimmer
1:42

need Flash

320
3.90
7.
Diamond Gals
Hans Zimmer
1:41

need Flash

320
3.87
8.
The Sud's Bucket
Hans Zimmer
2:28

need Flash

320
5.67
9.
Heaven's Just a Ballpark Win Away
Hans Zimmer
2:44

need Flash

320
6.27
10.
Win the Crowd
Hans Zimmer
5:35

need Flash

320
12.79
11.
The Telegram
Hans Zimmer
7:40

need Flash

320
17.59
12.
The Playoffs / The Prayer
Hans Zimmer
2:34

need Flash

320
5.88
13.
The Final Game
Hans Zimmer
13:00

need Flash

320
29.79
14.
Sisters Say Goodbye
Hans Zimmer
2:48

need Flash

320
6.43
15.
Life Goes On
Hans Zimmer
8:47

need Flash

320
20.13
60:56
140.03
Plot summary
In a small town in Oregon, farm girls Dottie Hinson (Geena Davis) and Kit Keller (Lori Petty) are sisters who compete with each other, even over the little things. Older, prettier, more settled and married Dottie is the catcher for the local softball team sponsored by Lukash Dairy. Kit is her younger sister, and pitcher on the same team, who feels that she can't measure up to Dottie in her own eyes, or in the eyes of others. With so many young men overseas fighting the Axis, there is a danger that professional baseball will be shut down for the duration of the war. A well-known candy manufacturer, Walter Harvey (Gary Marshall), contrives the idea to create a professional baseball league for women; both the keep the sport alive and to make a buck or two. Dottie is recruited by a scout (John Lovitz) for this new league but refuses to go unless her sister is allowed on the team. On the way to Chicago they also intervene to get an outstanding batter...
Comments