Drive
total: 10

Brigada
total: 9

Fast Five
total: 23

Tres metros sobre el cielo
total: 15
A Few Good Men Soundtrack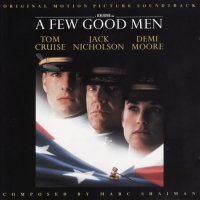 Original Motion Picture Soundtrack / OST

By:
Marc Shaiman
Release date:
08.12.1992
Bitrate:
~320 kbps
Length:
27:11 (10 tracks)
Size:
62.32 MB
Best review is still not choosen. Your's can become the BEST! Be the first... Write review
Tracklist. Online preview
Put online player to your blog, website or forum.
#
Marc Shaiman — A Few Good Men
Length

preview

Bitrate
Size
1.
Code Red & Semper Fidelis
John Philip Sousa
2:12

need Flash

320
5.05
2.
Kaffe
Mark Shaiman
2:17

need Flash

320
5.23
3.
Facts and Figures
Mark Shaiman
1:56

need Flash

320
4.44
4.
Guantanamo Bay
Mark Shaiman
2:48

need Flash

320
6.43
5.
Hound Dog
Willie Mae ''Big Mama'' Thorton
2:51

need Flash

320
6.53
6.
Plea Bargain
Mark Shaiman
2:18

need Flash

320
5.28
7.
Trial and Error
Mark Shaiman
3:34

need Flash

320
8.16
8.
Pep Talk
Mark Shaiman
3:18

need Flash

320
7.55
9.
Honor
Mark Shaiman
3:49

need Flash

320
8.73
10.
Stars and Stripes Forever
John Philip Sousa
2:08

need Flash

320
4.88
27:11
62.32
Plot summary
In this dramatic courtroom thriller, Lt. Daniel Kaffee, a Navy lawyer who has never seen the inside of the courtroom, defends two stubborn Marines who have been accused of murdering a colleague. Kaffee is known as being lazy and had arranged for a plea bargain. Downey's Aunt Ginny appoints Cmdr. Galloway to represent him. Also on the legal staff is Lt. Sam Weinberg. The team rounds up many facts and Kaffee is discovering that he is really cut out for trial work. The defense is originally based upon the fact that PFC Santiago, the victim, was given a "CODE RED". Santiago was basically a screw-up. At Gitmo, screw-ups aren't tolerated. Especially by Col. Nathan Jessup. In Cuba, Jessup and two senior officers try to give all the help they can, but Kaffee knows something's fishy. In the conclusion of the film, the fireworks are set off by a confrontation between Jessup and Kaffee.
Comments