Groupies bleiben nicht zum Frühstück
total: 153

Mirror Mirror
total: 106

Tengo ganas de ti
total: 38

The Wild
total: 12
Die Hard 2 Soundtrack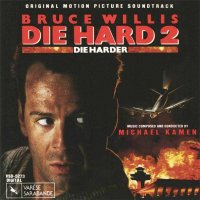 Original Motion Picture Soundtrack / OST

By:
Michael Kamen
Release date:
31.08.1993
Bitrate:
~320 kbps
Length:
40:31 (12 tracks)
Size:
93.11 MB
Best review is still not choosen. Your's can become the BEST! Be the first... Write review
Tracklist. Online preview
Put online player to your blog, website or forum.
#
Michael Kamen — Die Hard 2
Length

preview

Bitrate
Size
1.
Colonel Stuart
Michael Kamen
1:28

need Flash

320
3.39
2.
Baggage Handling
Michael Kamen
3:48

need Flash

320
8.70
3.
General Esperanza
Michael Kamen
2:13

need Flash

320
5.09
4.
Annexe Skywalk
Michael Kamen
3:10

need Flash

320
7.27
5.
Church
Michael Kamen
1:14

need Flash

320
2.86
6.
Doll
Michael Kamen
3:50

need Flash

320
8.79
7.
Runway
Michael Kamen
3:57

need Flash

320
9.05
8.
In The Plane
Michael Kamen
1:37

need Flash

320
3.70
9.
Icicle
Michael Kamen
2:53

need Flash

320
6.62
10.
Snowmobiles
Michael Kamen
2:39

need Flash

320
6.09
11.
Terminal
Michael Kamen
6:13

need Flash

320
14.23
12.
Finlandia (Jean Sibelius)
Michael Kamen
7:29

need Flash

320
17.13
40:31
93.11
Plot summary
At Dulles International Airport, John McClane is waiting for his wife Holly to land. A while after he arrives at the airport, he feels that something's wrong. He follows two men into the luggage room. They both try to kill him, but he kills one and the other gets away. He gets the dead guy's fingerprints and faxes them to his friend Al Powell over in L.A. The man's name was Oswald Cochrane, and he had been officially dead for two years. John then realizes that someone is about to screw around with the airport, and he's correct. Colonel Stuart, a man who got "canned by congress", as McClane says it, and his team of ex-commandos have taken control of the airport, shutting down the Instrument Landing System and the runways. He then threatens to cause plane crashes unless the plane carrying Ramon Esperanza from Valverde (the fictitious country used in Commando (1985)) lands at a runway of his designation. The Chief Engineer and the airport's S.W.A.T. team unsuccessfully try to restore communications with the planes above. Because of this, Stuart crashes a plane. McClane must now try to defeat the terrorists and save his wife before her plane, and all the other planes, run out of fuel.
Comments