Drive
total: 10

Brigada
total: 9

Fast Five
total: 23

Tres metros sobre el cielo
total: 15
The Little Mermaid Soundtrack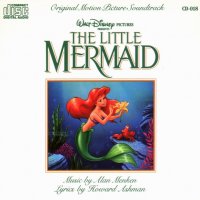 Best review is still not choosen. Your's can become the BEST! Be the first... Write review
Tracklist. Online preview
#
Alan Menken and Howard Ashman — The Little Mermaid
Length
1.
Fathoms Below
Alan Menken & Howard Ashman
1:41
2.
Main Titles
Alan Menken & Howard Ashman
1:26
3.
Fanfare
Alan Menken & Howard Ashman
0:29
4.
Daughters Of Triton
Alan Menken & Howard Ashman
0:40
5.
Part Of Your World
Alan Menken & Howard Ashman
3:15
6.
Under The Sea
Alan Menken & Howard Ashman
3:15
7.
Part Of Your World (reprise)
Alan Menken & Howard Ashman
2:17
8.
Poor Unfortunate Souls
Alan Menken & Howard Ashman
4:51
9.
Les Poissons
Alan Menken & Howard Ashman
1:35
10.
Kiss The Girl
Alan Menken & Howard Ashman
2:43
11.
Fireworks
Alan Menken & Howard Ashman
0:37
12.
Jig
Alan Menken & Howard Ashman
1:34
13.
The Storm
Alan Menken & Howard Ashman
3:20
14.
Destruction Of The Grotto
Alan Menken & Howard Ashman
1:54
15.
Flotsam And Jetsam
Alan Menken & Howard Ashman
1:25
16.
Tour Of The Kingdom
Alan Menken & Howard Ashman
1:27
17.
Bedtime
Alan Menken & Howard Ashman
1:22
18.
Wedding Announcement
Alan Menken & Howard Ashman
2:19
19.
Eric To The Rescue
Alan Menken & Howard Ashman
3:43
20.
Happy Ending
Alan Menken & Howard Ashman
3:10
43:03
Plot summary
Two Oscars 1990 in nominations:
— Best Music, Original Score, Alan Menken
— Best Music, Original Song, Alan Menken (music), Howard Ashman (lyrics) for the song "Under the Sea".

This is the story of a little mermaid named Ariel, who dreams of going on land. When her father, King Triton, Forbids her to go on land, Ariel visits Ursula who her father had banished. Eventhough She helps her get to land, what Ariel dosen't know is that Ursula has plans to destroy her to get revenge on her father.
Comments