Groupies bleiben nicht zum Frühstück
total: 153

Mirror Mirror
total: 106

Tengo ganas de ti
total: 38

The Wild
total: 12
Back to the Future Part II Soundtrack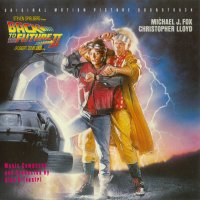 Original Motion Picture Soundtrack / OST

By:
Alan Silvestri and others
Release date:
22.11.1989
Bitrate:
~320 kbps
Length:
55:50 (16 tracks)
Size:
128.84 MB
Best review is still not choosen. Your's can become the BEST! Be the first... Write review
Tracklist. Online preview
Put online player to your blog, website or forum.
#
Alan Silvestri and others — Back to the Future Part II
Length

preview

Bitrate
Size
1.
Main Title
Alan Silvestri
2:19

need Flash

320
5.32
2.
The Future
Alan Silvestri
5:23

need Flash

320
12.33
3.
Hoverboard Chase
Alan Silvestri
2:49

need Flash

320
6.46
4.
A Flying Delorean?
Alan Silvestri
4:30

need Flash

320
10.32
5.
My Father!
Alan Silvestri
2:05

need Flash

320
4.77
6.
"Alternate 1985"
Alan Silvestri
3:04

need Flash

320
7.05
7.
If They Ever Did
Alan Silvestri
3:52

need Flash

320
8.88
8.
Pair O' Docs
Alan Silvestri
1:27

need Flash

320
3.34
9.
The Book
Alan Silvestri
4:48

need Flash

320
11.01
10.
Tunnel Chase
Alan Silvestri
5:20

need Flash

320
12.22
11.
Burn The Book
Alan Silvestri
2:25

need Flash

320
5.54
12.
Western Union
Alan Silvestri
1:53

need Flash

320
4.31
13.
End Title
Alan Silvestri
4:38

need Flash

320
10.60
14.
Beat it [bonus]
Micheal Jackson
4:19

need Flash

320
9.88
15.
I Can't Drive 55 [bonus]
Sammy Hagar
4:14

need Flash

320
9.71
16.
Papa loves Mambo [bonus]
Perry Como
2:44

need Flash

320
6.27
55:50
128.84
Plot summary
With Marty McFly's parents back together and back in his own time of 1985. He thought that his ordeal of time traveling was over. What he does not know is that it was just the beginning. As Dr. Emmett L Brown says that he has to come to the future with him. Marty and his girlfriend Jennifer come with Doc to the year 2015 where his future family is about to enter turmoil when Marty's son Marty Jr. is about to be in a robbery, Marty and Doc formulate a plan to prevent the robbery from taking place, as they succeed in their mission Marty buys a book called "Grey's Sports Almanac" which is a futuristic sports statistics book. When Doc throws it away, former school bully named Biff Tannen picks it up and discovers about Doc's time machine. Biff then steals the time machine. When he brings it back and Doc and Marty with his girlfriend Jennifer go back to 1985, things were not right. Then both Marty and Doc realize that Biff altered time, Biff is rich, and married to Marty's mother Lorainne. The only way to prevent this from happening, Marty and Doc have to go to 1955, to steal the Almanac from Biff.
Comments