Drive
total: 10

Brigada
total: 9

Fast Five
total: 23

Tres metros sobre el cielo
total: 15
Aliens Soundtrack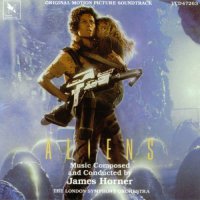 Original Motion Picture Soundtrack / OST

By:
James Horner
Release date:
25.10.1990
Bitrate:
~320 kbps
Length:
40:57 (9 tracks)
Size:
93.87 MB
Best review is still not choosen. Your's can become the BEST! Be the first... Write review
Tracklist. Online preview
Put online player to your blog, website or forum.
#
James Horner — Aliens
Length

preview

Bitrate
Size
1.
Main Title
James Horner
5:07

need Flash

320
11.71
2.
Going After Newt
James Horner
3:16

need Flash

320
7.49
3.
Sub-Level 3
James Horner
6:33

need Flash

320
15.00
4.
Ripley's Rescue
James Horner
3:16

need Flash

320
7.49
5.
Atmosphere Station
James Horner
3:13

need Flash

320
7.37
6.
Futile Escape
James Horner
8:25

need Flash

320
19.28
7.
Dark Discovery
James Horner
1:51

need Flash

320
4.26
8.
Bishop's Countdown
James Horner
2:49

need Flash

320
6.46
9.
Resolution & Hyperspace
James Horner
6:27

need Flash

320
14.75
40:57
93.87
Plot summary
Fifty-odd years after Ellen Ripley survived her disastrous ordeal, her escape vessel is recovered after drifting across the galaxy as she slept in cryogenic stasis. Back on earth, nobody believed her story about the "Aliens" on the planet LV-426. After the "Company" orders the colony on LV-426 to investigate, however, all communication with the colony is lost. The Company enlists Ripley to aid a team of tough, rugged space marines on a rescue mission to the now partially terraformed planet to find out if there are aliens or survivors. As the mission unfolds, Ripley will be forced to come to grips with her worst nightmare, but even as she does, she finds that the worst is yet to come.
Comments