Drive
total: 10

Brigada
total: 9

Fast Five
total: 23

Tres metros sobre el cielo
total: 15
Jaws 3-D Soundtrack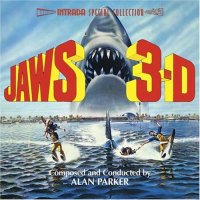 Original Motion Picture Soundtrack / OST

By:
Alan Parker
Release date:
22.07.1983
Bitrate:
~257 kbps
Length:
34:51 (12 tracks)
Size:
64.03 MB
Best review is still not choosen. Your's can become the BEST! Be the first... Write review
Tracklist. Online preview
Put online player to your blog, website or forum.
#
Alan Parker — Jaws 3-D
Length

preview

Bitrate
Size
1.
Jaws 3-D Main Title
Alan Parker
2:55

need Flash

256
5.35
2.
Kay and Mike's Love Theme
Alan Parker
2:14

need Flash

257
4.10
3.
Panic at Sea World
Alan Parker
1:57

need Flash

258
3.60
4.
Underwater Kingdom / Shark Chase part 1
Alan Parker
4:15

need Flash

256
7.78
5.
Shark Chase part 2 / Dolphin Rescue
Alan Parker
1:21

need Flash

258
2.49
6.
Saved by the Dolphin
Alan Parker
2:01

need Flash

257
3.71
7.
The Shark's Gonna Hit Us!
Alan Parker
2:39

need Flash

256
4.86
8.
It's Alive / Sea World Opening / Silver Bullet
Alan Parker
2:30

need Flash

257
4.60
9.
Overman's Last Dive
Alan Parker
1:16

need Flash

257
2.33
10.
Philip's Demise
Alan Parker
4:54

need Flash

256
8.97
11.
Night Capture
Alan Parker
4:48

need Flash

256
8.79
12.
Jaws 3-D End Titles
Alan Parker
4:01

need Flash

257
7.38
34:51
64.03
Plot summary
Michael Brody and Sean Brody, the sons of former Amity police chief Martin Brody, work at Florida's Sea World, a seaside park run by Calvin Bouchard. Sean befriends Kelly Ann Bukowski, and Michael's girlfriend Kathryn Morgan is Sea World's head scientist who always works with Sea World's dolphins Cindy and Sandy. In its man-made lagoon, about 40 feet under the water, Sea World opens the Undersea Kingdom, a new set of underwater glass tunnels that have their own control room, and Calvin's friend Philip FitzRoyce is there to do some filming. When Sea World diver Shelby Overman vanishes, everyone is worried. Michael and Kathryn head into the water, where they find a baby great white shark and decide to bring it to Sea World to put it on display, but at Sea World, the baby shark dies. When Overman's body is found, Michael vomits when he sees it. Kathryn looks at the body and knows that the baby shark could not have been the shark that killed Overman, because the baby shark's bite radius is too small its 35-foot-long mother killed Overman. When Kathryn and Michael tell Calvin and Philip about the shark, they all try to evacuate the park, including the park's beach, as they try their best to protect Sea World's visitors from the shark.
Comments