Groupies bleiben nicht zum Frühstück
total: 153

Mirror Mirror
total: 106

Tengo ganas de ti
total: 38

The Wild
total: 12
The Warriors Soundtrack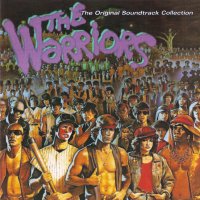 Best review is still not choosen. Your's can become the BEST! Be the first... Write review
Tracklist. Online preview
Put online player to your blog, website or forum.
#
VA — The Warriors
Length

preview

Bitrate
Size
1.
Theme From 'The Warriors'
Barry De Vorzon
3:58

need Flash

320
9.08
2.
Nowhere To Run
Arnold McCuller
3:16

need Flash

320
7.49
3.
In Havana
Kenny Vance & Ismael Miranda
3:57

need Flash

320
9.06
4.
Echoes In My Mind
Mandrill
6:11

need Flash

320
14.18
5.
The Fight
Barry De Vorzon
1:22

need Flash

320
3.14
6.
In The City
Joe Walsh
3:56

need Flash

320
9.01
7.
Love Is A Fire
Genya Ravan
4:49

need Flash

320
11.02
8.
Baseball Furies Chase
Barry De Vorzon
2:30

need Flash

320
5.72
9.
You're Movin' Too Slow
Johnny Vastano
2:40

need Flash

320
6.13
10.
Last Of An Ancient Breed
Desmond Child
4:23

need Flash

320
10.05
37:02
85.47
Plot summary
Cyrus, the leader of the most powerful gang in New York City, the Gramercy Riffs, calls a midnight summit for all the area gangs, with all asked to send nine unarmed representatives for the conclave. A gang called The Warriors are blamed for causing gang violence at theaters, but now it looks as highly stylized and pulpy as Hill intended. The plot finds a New York gang having to cross the territory of rivals in order to get to their own 'hood. And so The Warriors begin their long journey from the Bronx back to Coney Island. The second-in-command, Swan, takes charge, though the hot-headed Ajax openly voices his desire to be acting gang warlord. The Warriors slowly cross the dangerous Bronx and Manhattan territories, narrowly escaping police and other gangs every step of the way.
Comments